According to the U.S. Bureau of Labor Statistics, pre-employment training was required (licensing or certification) for all hairdressers, hair stylists, and cosmetologists in 2018. 
Cosmetology school is considered a vocational school. As a result, cosmetology students are considered for the same types of student loans that one might qualify for at a four-year university. Students typically spend up to two years attending cosmetology school. 
How will you fund your education? There are plenty of options to become a well-trained cosmetologist. Continue reading to learn more about your student loan options for cosmetology school. 
Choosing a School 
Financial assistance programs and requirements typically vary from school to school. When deciding where you will receive your education, it's important to find out what loans and assistance opportunities your school offers. Some career schools do not participate in federal student aid programs, which provide grants, loans, and work-study funds from the federal government to students. Since schools offer different financial aid packages, you should consider applying to more than one school. 
Some things to consider include:
Graduation rate: What percentage of students complete the program within the standard time? 
Loan default rate: Depending on the rate, you might be unable to receive aid from programs at a school with a high default rate. Defaulting on a loan occurs when payments are missed. 
Job placement rate: Consider the percentage of students who find a job in cosmetology within a set amount of time. 
When comparing schools, consider the following:
What are the school costs and net price for education? The cost can vary from school to school, so it's important to assess institution costs before enrollment. Most institutions have a net price calculator, which provides you with an idea of how much the program will cost after financial aid. 
What are the requirements for admission? Every institution has its own admission requirements. Once you've found some schools in which you are interested, visit their websites or contact their admissions offices to learn what you will need to be admitted into the programs.  
Is the institution accredited? Accredited schools ensure employers that you are well-educated in cosmetology. Since accredited schools meet certain requirements, accreditation helps to guarantee a standard within cosmetology. Additionally, if the school you've chosen is not accredited, you won't receive federal financial aid. Want to know if the cosmetology school you're looking into is accredited? Search for the name of the institution here. 
What are the financial aid opportunities? Many students qualify for some level of financial aid. 
Federal vs. Private Student Loans 
Different financial aid options are available to you to fund your education. If you receive a federal student loan, you are borrowing money from your career school, state, or federal source. 
When paying back any loan, you will need to pay the entire loan amount and any accrued interest. Interest is the charge for using the borrowed money, and the interest rate depends on the type of loan. Before signing for and accepting a loan, you should understand the type of loan and the repayment responsibilities in their entirety. 
Consider this table when deciding between federal and private student loans: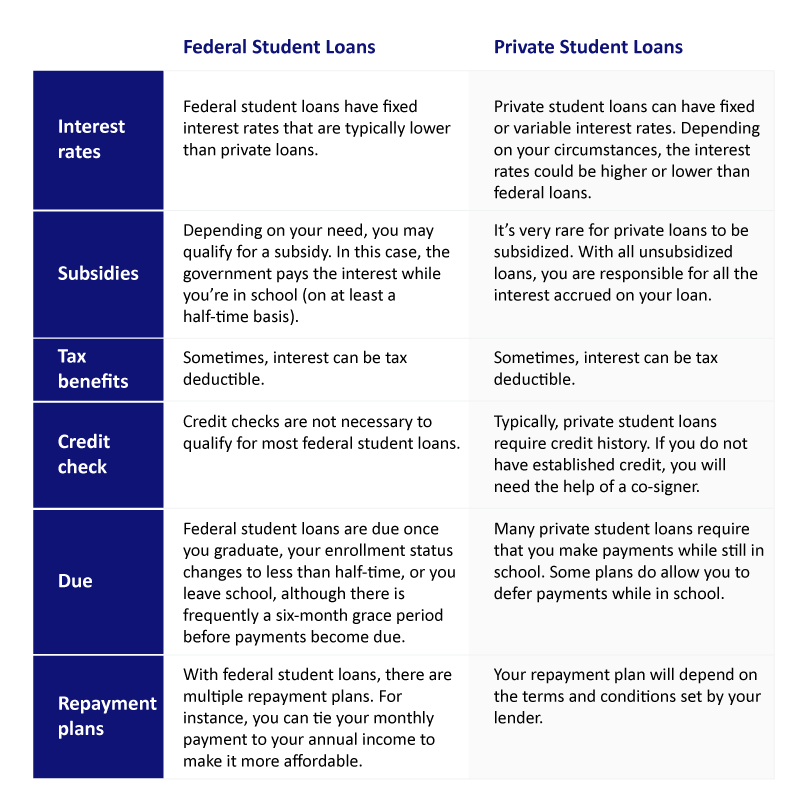 It's important to note there are additional factors to consider when weighing the pros and cons of federal and private student loans. 
All in all, federal student loans are funded by the federal government. The terms and conditions are set by the law and include benefits, like fixed interest rates and income-driven repayment plans. Income-driven repayment plans allow you to repay your federal loans based on your income and family size. As a result, you can avoid large student loan payments if you do not have a high income. 
Private loans are funded by private organizations: banks, credit unions, and state-based/affiliated organizations. The lender sets the terms and conditions, so they can vary from lender to lender. The most important takeaway is that private student loans are typically more expensive than federal student loans. 
Federal Student Loans 
To qualify for a federal student loan, you will need to complete the Free Application for Federal Student Aid (FAFSA). When considering a federal student loan, check your state and institution's deadlines. Additionally, you will have to apply every year that you are in school and need to receive federal aid.
Direct Subsidized and Unsubsidized Loans
Direct Subsidized and Unsubsidized Loans are considered low-interest loans and are only available to eligible students. 
One important thing to consider is that your school will determine the amount you can borrow when receiving a Direct Subsidized Loan. As a result, the amount you are loaned will not exceed your financial need. The government will pay any interest accrued during certain periods, such as when you're enrolled in school at least half-time.
Direct Unsubsidized Loans, on the other hand, are available regardless of financial need. Please note that you will be responsible for paying the interest during all periods when you have a Direct Unsubsidized Loan. 
Private Student Loans 
Federal student loans tend to give you the best bang for your buck. However, you may need more money for your education than a federal student loan can provide if you qualify. Although private student loans can be helpful during these times, remember that these loans are considered riskier than federal student loans. You can apply for private student loans from Sallie Mae and through banks like Wells Fargo and Discover. 
With fewer protections than with federal student loans, it's important to stay on top of your payments and set financial goals before signing for a private student loan. Private student loans can cover all school-certified expenses: books, fees, tuition, food, housing, essential travel, and technology. However, private student loans should only be considered once you've expended all other options.
Payment Plans 
Many cosmetology schools offer payment plans for students. Some institutions offer payment plans for students who are ineligible or have not applied for federal funding. There is no general rule for payment plans, as they are unique to the school that you are applying for. It's a good idea to contact your school to see if they offer a payment plan. From there, you can learn what terms and rules your school has for this type of plan. 
Here are a few cosmetology schools that offer payment plans:
In addition to payment plans, many cosmetology schools have financial aid options for qualifying students.
Funding Cosmetology School
When pursuing an education in cosmetology, remember that you have options when it comes to funding. Make sure that you understand the terms and conditions before deciding to take on a student loan. It's recommended that you first look for scholarships and grants (money you won't need to pay back). Next, apply for federal student loans by filling out the FAFSA. Private student loans can be considered to fill in any financial gaps. 
Want to learn more about funding your cosmetology education? CollegeFinance.com offers numerous resources to help you cover the cost of higher education. We provide up-to-date information on all stages of the college experience, whether you're planning, borrowing, or repaying your student loans. CollegeFinance.com is dedicated to helping students, parents, and graduates make the most of their college investment.