Highlights
The top reason to study abroad was to interact with diverse cultures and people (76%) followed by exploring new places (67%). Only 53% wanted to study abroad to learn a new language. 

Sixty percent of students selected their destination country based on cost. 

In the event they were unable to study abroad, 94% of students were interested in a study abroad alternative such as a virtual exchange, domestic study away, or international internship. 
Student Thoughts on Studying Abroad Post-Pandemic [Survey]
Studying abroad can be a rite of passage for many students. For some, it's a chance to explore the world independently or with close friends. It can also be a way to put that foreign language degree to work. Whatever the motivations, it's an exciting opportunity.
The COVID-19 pandemic has impacted many students' ability to take advantage of these programs. But, with travel restrictions to other countries being lifted and programs beginning to offer places for fall 2021, students have the chance to experience international education again. 
We decided to dive into student aspirations to travel abroad post-pandemic, what factors they're considering, and even alternative options for those not ready to fly away just yet.
Foreign Feelings 
In March 2020, various travel bans were put in place, halting nonessential international and domestic travel. This negatively affected 32% of students, who had existing study abroad plans canceled and 44% who had them postponed. 
While travel was put on pause, a lot of people had time to dream about getting away, including college students. Nearly 60% of college students surveyed said their desire to study abroad had increased during the pandemic. Luckily, nearly 64% of them attend schools that have either partially or fully resumed these programs.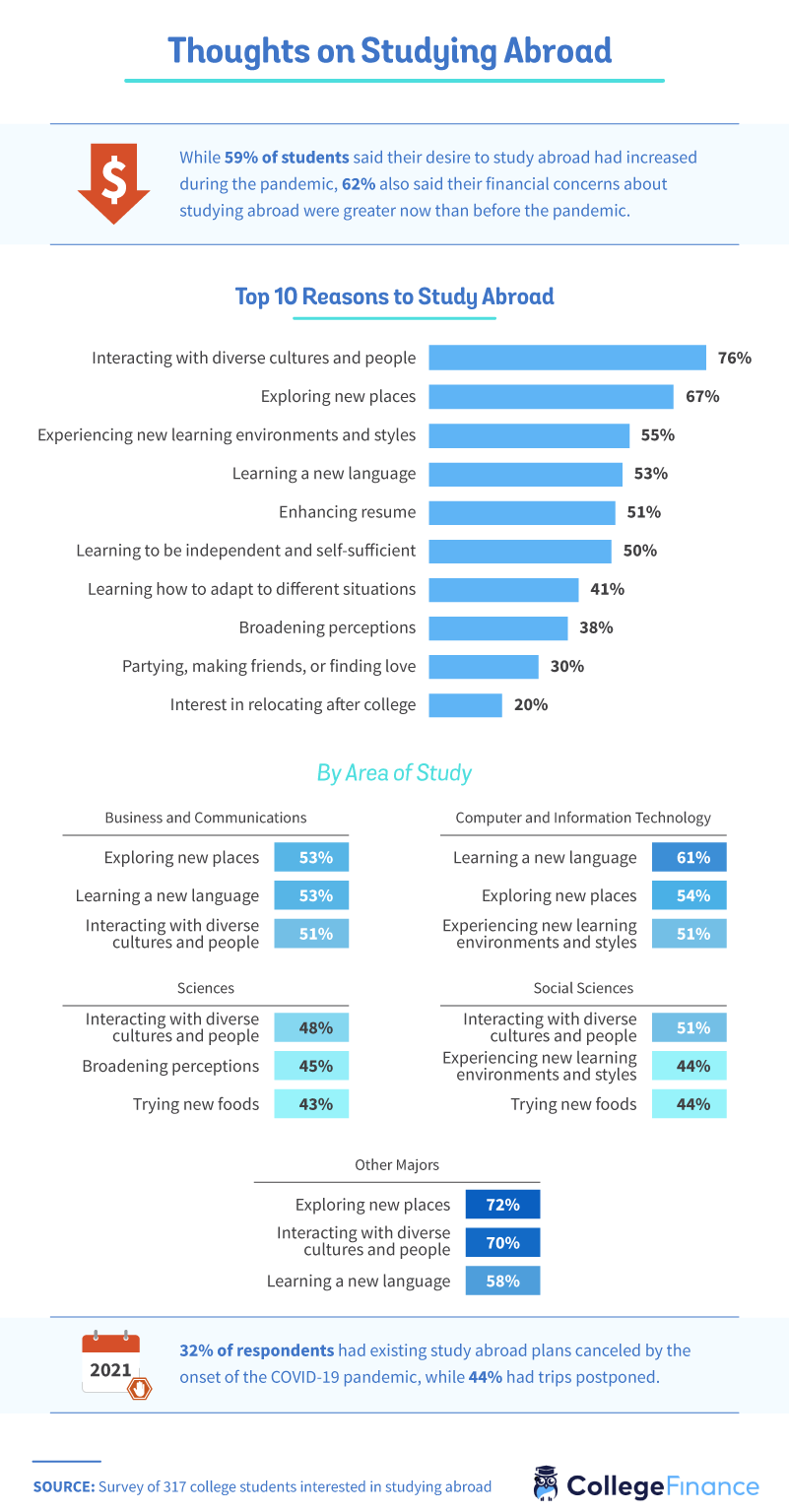 More than three-quarters of respondents saw studying abroad as an opportunity to interact with diverse cultures. Another 67% saw it as a chance to explore somewhere new, and 55% said it was a great way to experience new learning styles and classrooms. 
Business and communications majors saw the top benefit to studying abroad as exploring, science and social science majors said the reason they most want to study abroad was to interact with diverse cultures, while those studying computer and information technology saw it primarily as an opportunity to learn a new language.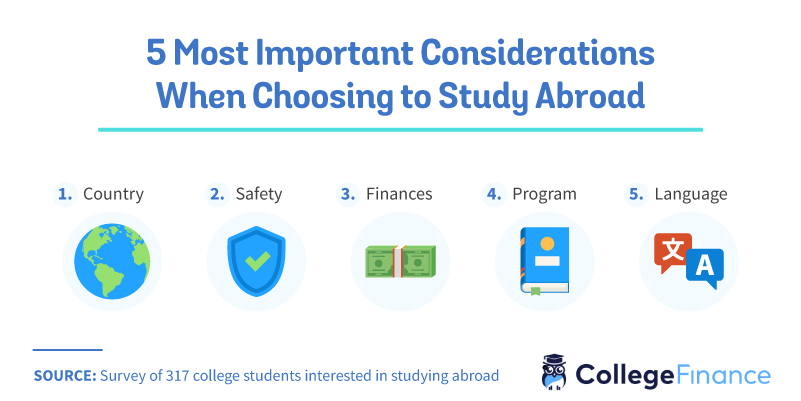 So what do these students consider when choosing their destination? Location, safety, finances, program specifics, and their ability to understand the local language were all considered top priorities. 
Location, Location, Location
When it comes to ideal study abroad destinations, the top locations for students included the UK, Japan, Spain, Germany, and Canada.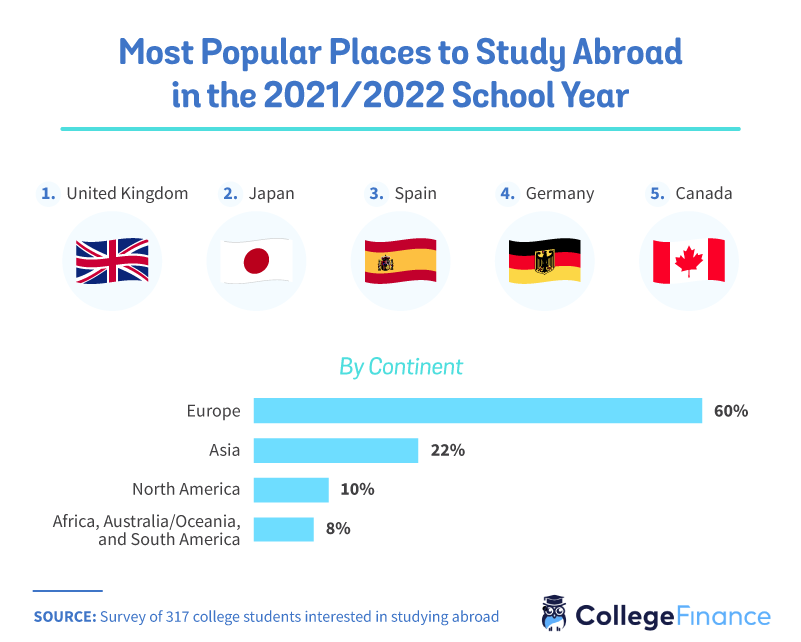 As reflected by the choice of preferred countries, the top continent American students wanted to travel to is Europe with 60% of votes, while Asia trailed behind with 22%. Only 18% of respondents wanted to go to one of the other four inhabited continents. The allure of the UK and Canada may stem from their similarities to the United States in language and culture, while also giving students the opportunity to meet new people and explore new place. Spain and Germany are great destinations for both history buffs and language learners, and Japan offers a completely unique cultural experience combined with some of the most advanced technology in the world. 
Cost of Overseas Education
Of course, studying abroad isn't free and usually isn't included in your college tuition. Understanding the cost is crucial to making the dream a reality. But the majority of students are already thinking about this, with 60% selecting a country based on cost and another 56% selecting their programs for the same reason. Most had considered additional costs, too, with 78% having budgeted for expenses such as personal travel and meals. Fifty-six percent said these costs impacted their decision to study abroad.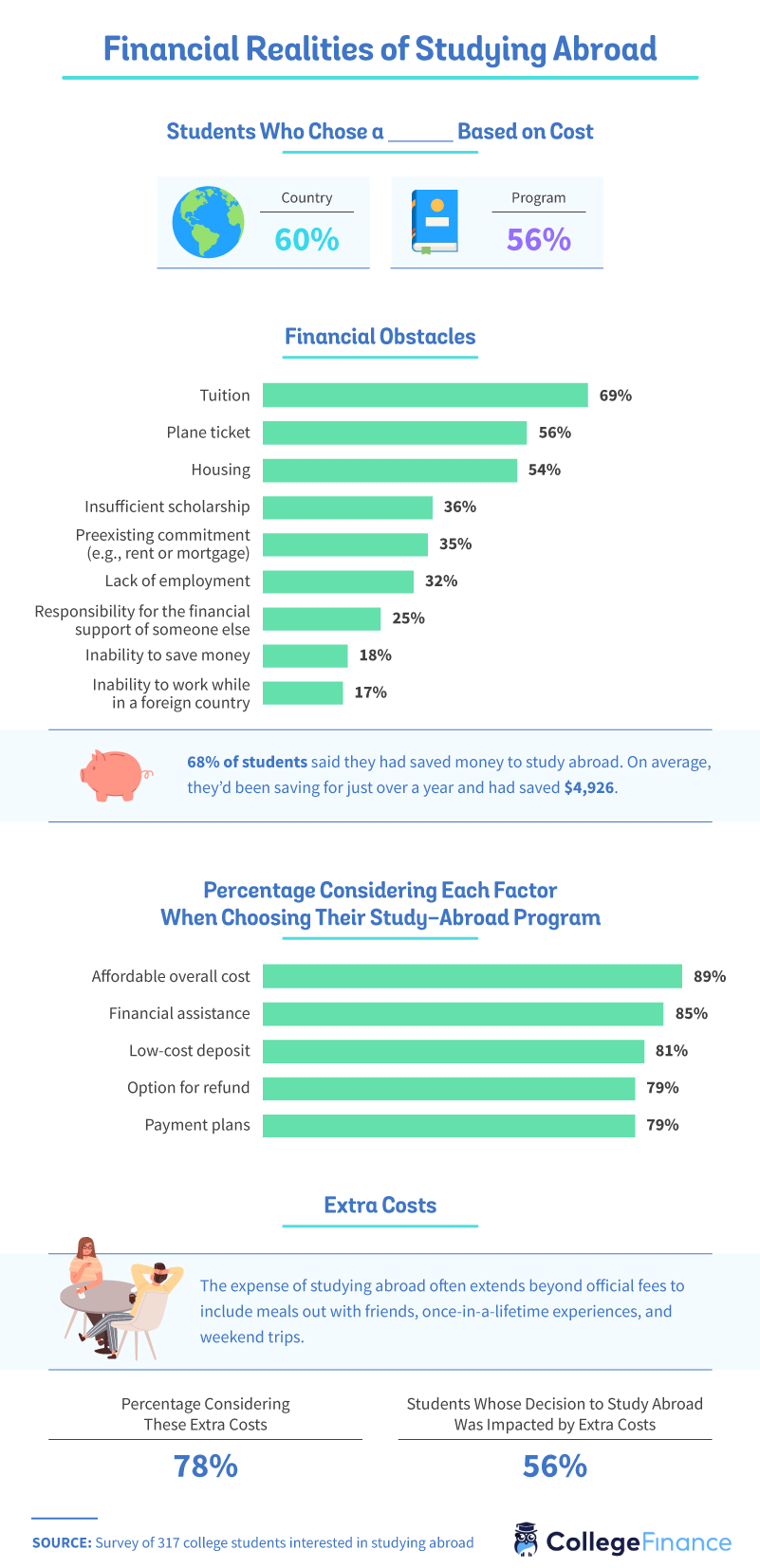 To help combat the financial obstacles of studying abroad, 68% of students said they've been saving money for a little over a year and have nearly $5,000 stashed away for the opportunity. According to Goabroad.com, the cost of studying abroad varies wildly. In our respondents' top desired location, the UK, a semester could cost anywhere from $8,000 to $21,000.
But of course, there are ways to mitigate these costs, with the top ones considered by our respondents being selecting an affordable program, applying for financial assistance, and seeking out low-cost deposits.
Pandemic and Political Concerns
Beyond finances, there are health and political concerns for students to consider when choosing where to study. Twenty-one percent of students said the pandemic negatively affected their desire to study abroad. With coronavirus still impacting many parts of the world, 79% of students said they'd be willing to pay extra for a program that had better cleanliness standards.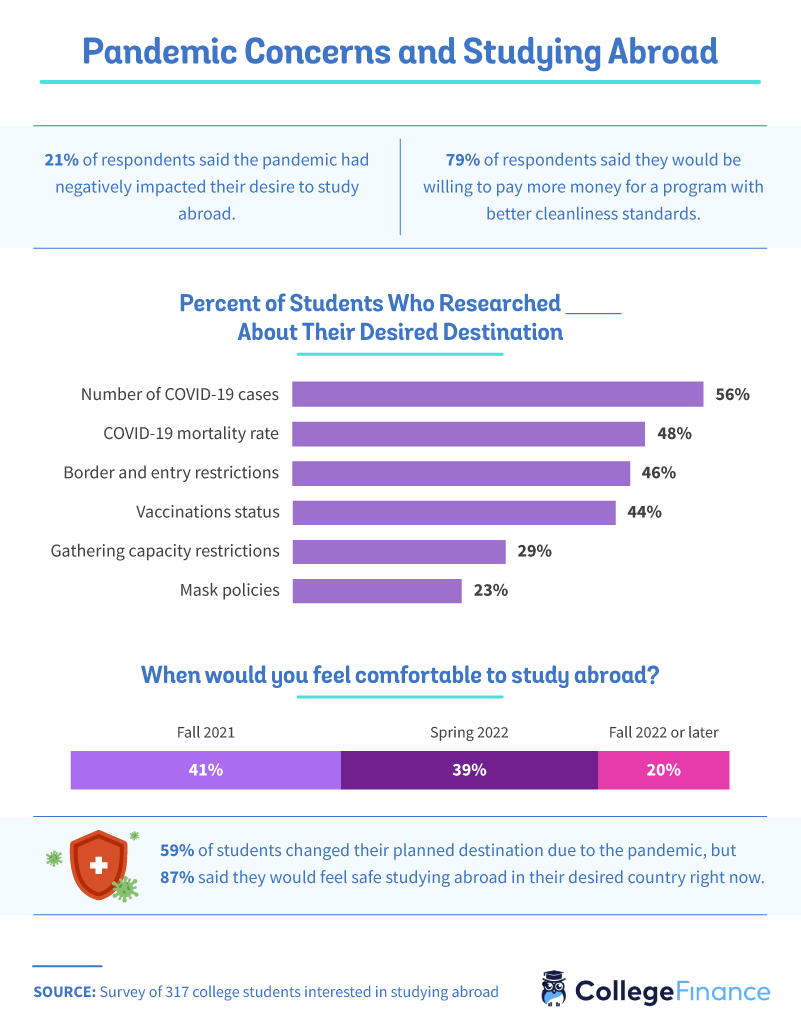 A good amount of students, 41%, said they'd feel safe to study abroad in fall 2021, while 39% said it would be spring 2022 before they felt safe, and 20% said it would be in the fall of 2022 or later for them. 
Considering there were over 182 million COVID-19 cases worldwide at the time of writing, it's no surprise that 56% of students had researched cases in their country of choice, and 48% had looked up their COVID mortality rates. Students also researched border and entry restrictions. The Centers for Disease Control and Prevention (CDC) offers information on these factors through the CDC COVID-19 Travel Health Notices by Destination and the U.S. Department of State Travel Advisories.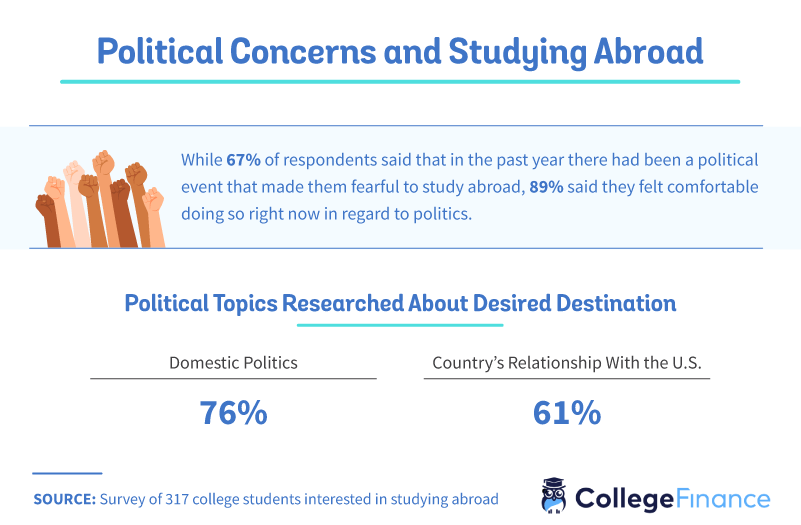 Beyond health concerns, the politics of a given destination often influence students' decisions, with 67% of students saying there have been political events in the past 12 months that made them fearful of studying abroad. Regardless, 89% said they felt comfortable studying abroad right now in regards to politics. 
Abroad Alternatives
There are opportunities to learn in new styles or with other cultures that don't have to involve heading to a foreign country. There are even domestic opportunities students can consider. In fact, 53% of respondents had done just that.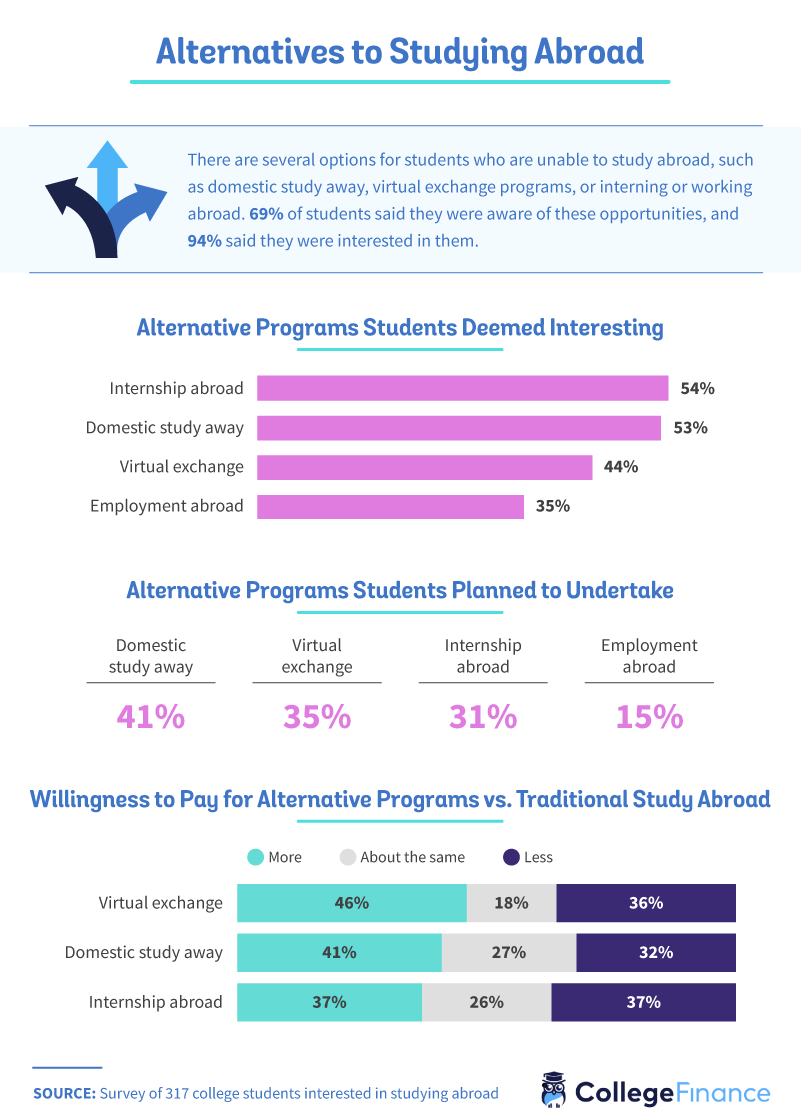 Study abroad alternatives, ranging from virtual exchanges to working or interning abroad at a later stage, held a level of interest for 94% of respondents. People were more willing to pay for virtual exchange programs (46%) than they were for domestic programs or unpaid internships.
Education Home or Away
Overall, our respondents were eager to have the opportunity to venture abroad and took considerations such as their chosen destination's location, politics, cost, and COVID-19 statistics into account. It's clear that students are ready to get their life back to normal after facing the variety of challenges brought on by the pandemic.
With finances playing a large role in these decisions, it's important to get on track and find the funds you need to make these foreign aspirations a reality. College Finance has a ton of resources to help students plan, pay off loans, and gain the financial knowledge they need to succeed. Whichever destination you choose, College Finance is along for the ride. 
Methodology and Limitations
Using Amazon Mechanical Turk and Prolific, we surveyed 317 current college students interested in studying abroad. Fifty-three percent of our respondents identified as men, 44% identified as women, and 3% identified as nonbinary or nonconforming. As for their area of study, 19% were business or communications majors, 18% were computer and information science majors, 22% majored in the sciences, 16% majored in social sciences, and the remaining 25% had other majors, including health, education, or visual and performing arts. Those who said they were not in college, were not interested in studying abroad, or failed an attention-check question were disqualified. 
A larger sample size may reveal more insights about the opinions of college students on studying abroad. The data we are presenting rely on self-report. There are many issues with self-reported data. These issues include, but are not limited to, selective memory, telescoping, attribution, and exaggeration. 
Fair Use Statement
Knowledge is power, so feel free to spread the love with the students in your life for any noncommercial purpose. In the same way that professors ask you to cite your sources, we ask you to link back to this page so that the full study can be seen.