No matter what you thought you would accomplish this year – get married, get in shape, get promoted, go on a great vacation – the odds are pretty high that your plans have been sidetracked. 
Regardless of what phase your city or state is in concerning reopening, social distancing and quarantine measures have made returning to life before COVID-19 nearly impossible. And while you may be contemplating what this new normal means for the weeks or months ahead, there's no reason why you can't make the most out of lockdown right now. In reality, whatever goals you'd set for the year may still be within reach, even if you have to rethink how to get there. 
So what does personal development in the middle of a pandemic look like, and how can you still find a way to get something worthwhile out of 2020? To find out, we served over 1,000 people who self-isolated or self-quarantined at some point in recent months and over 200 hiring managers to get a pulse on how to make the most of downtime. Read on as we break down how many people are picking up new skills, where they're getting their information, and how good those skills might look in their next job interview. 

It goes without saying that almost everything about this year probably hasn't gone the way you expected. If it isn't one thing, it's another, and 2020 has been such a rollercoaster of emotions and headlines, it's entirely possible you may not have been able to keep up with them all. 
If you're feeling like you somehow don't have the energy to keep up with life as we know and to take on new projects or goals, consider this: 90% of hiring managers surveyed identified being more likely to hire someone who worked on their professional development during COVID-19 than someone who didn't.
Getting the Most Out of Lockdown
Once you've exhausted your Netflix to-watch list and contemplated just how serious you are about making sourdough starter, you may realize you have more downtime on your hands than you originally expected. Getting the most out of quarantine doesn't have to be a Rubik's cube of complexity as long as you're willing to take a little initiative and get things kicked off without a completely solid plan in place.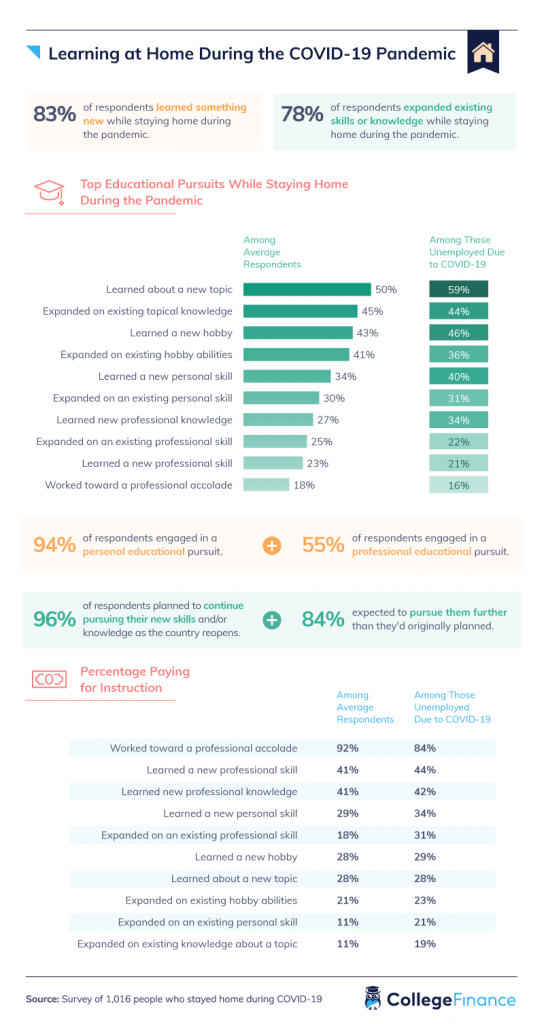 Among the more than 1,000 people surveyed, 83% indicated learning something new while staying at home during COVID-19, and another 78% expanded their existing skills or knowledge during the pandemic. While 84% of people working toward a professional accolade paid for their instruction and 78% paid for the supplies they needed, a majority of people learning new skills or knowledge (either personal or professional) paid nothing to do so. 
Top 10 Most Popular Certifications Pursued During COVID-19
Information Technology and Computer Engineering
Finance and Accounting
Environmental Health and Safety
Electrical Engineering
Construction
Social Work and Psychology
Human Resources
Event Planning
Marketing
Environmental Engineering
Men were 11 percentage points more likely than women to learn about a new topic during lockdown and 4 percentage points more likely to expand on their existing topical knowledge, while women were more likely to learn a new hobby to broaden their understanding of an existing hobby. Overwhelmingly, 96% of people planned to continue pursuing their new skills or knowledge even after lockdown ended, and 84% expected to take their new knowledge even further than they'd initially anticipated. 
Pushing Themselves Further
With so much uncertainty and massive job loss across the country, it can be difficult to find the motivation to do much more than get by. For the majority of people looking to learn something new, the reasons were often more personal than they were professional.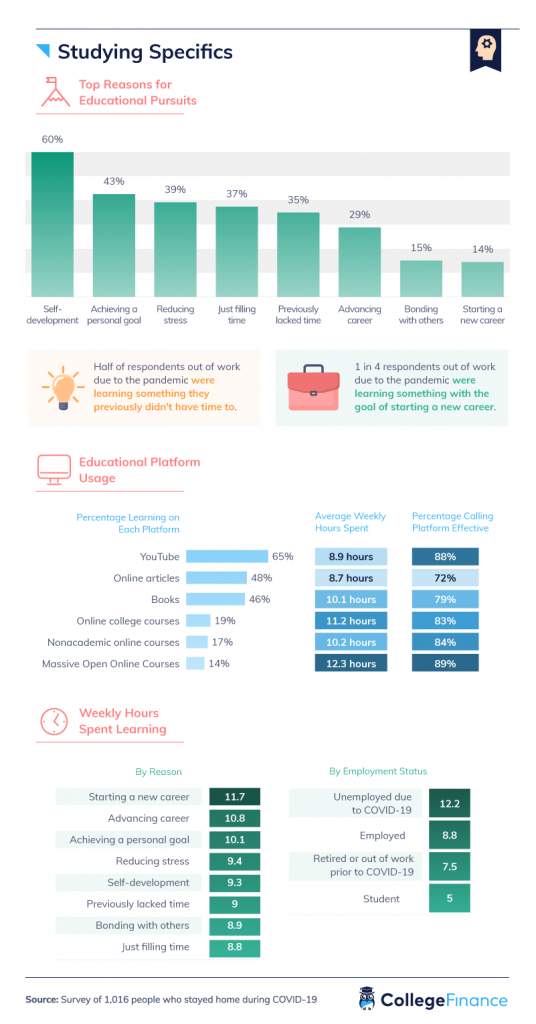 For 60% of people, picking up a new skill set or hobby during the pandemic was a self-development pursuit, while another 43% were hoping to achieve a personal goal, and 39% were trying to reduce their stress levels. Just 29% of people expanding their educational knowledge of a topic did so to help advance their career, and only 14% were hoping to get a promotion out of it. In fact, half of people out of work as a result of the pandemic were learning something new that they previously didn't have the time to pursue. One in four people out of work were learning something new with the hopes of starting a new career. 
Sixty-five percent of people focused on learning something new turned to YouTube for an average of nearly nine hours a week. YouTube wasn't just the most popular platform as an educational outlet, it was considered one of the most effective (88% overall), second only to Massive Open Online Courses (89%). Online articles and books were also popular outlets for picking up new knowledge, though people spent the most time engaged with open online courses and online college programs. 
People who were out of work due to COVID-19 spent the most time learning (over 12 hours), but people still employed found nearly 9 hours on average to learn each week. People looking to start a new career were equally motivated to learn more (12 hours a week, on average), followed by those attempting to advance their careers (11 hours) or achieve a new personal goal (10 hours). 

Even though personal pursuits were often more common motivations than professional ones, people looking to restart or reenvision their careers post-pandemic were often spending more time engaged in learning than those advancing their personal goals or picking up hobbies. 
In either scenario, professional development during COVID-19 impressed 9 out of 10 hiring managers enough that they would be more likely to promote someone who engaged in these learning opportunities during lockdown. 
Connections Between Personal and Professional Goals
As it turns out, there may be a clear intersection between the knowledge people are pursuing for their own personal gain and the knowledge they're seeking out for professional advancement.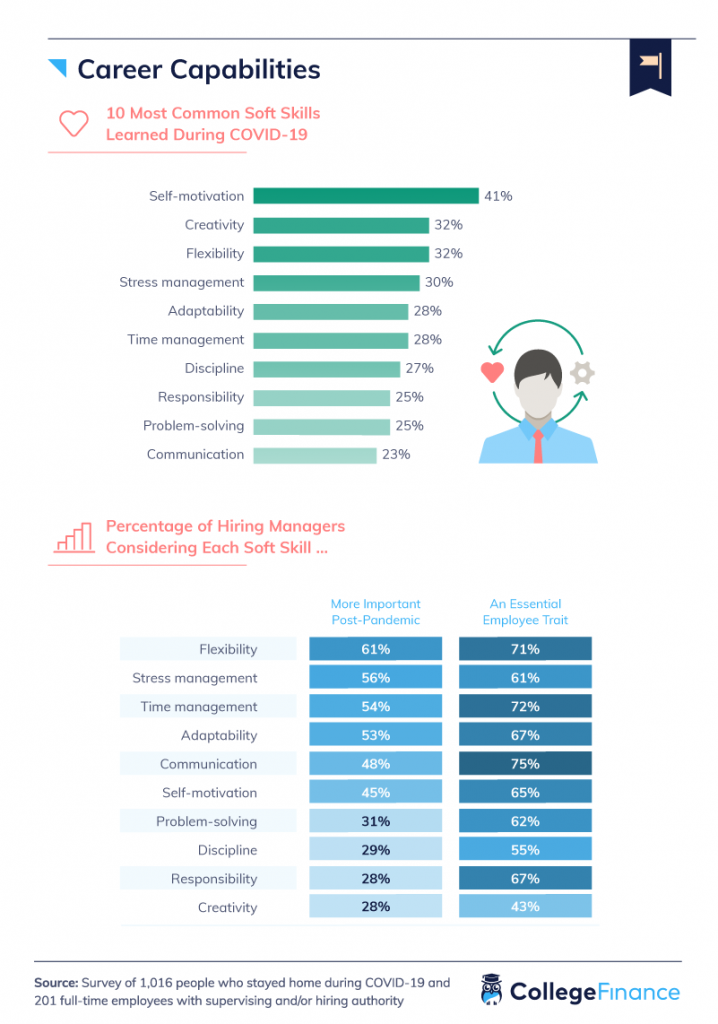 Forty-one percent of people indicated learning self-motivation as a soft skill during the pandemic, which 45% of hiring managers acknowledged was more important than ever before, and 65% of hiring managers called an essential employee trait. Another 32% of people believed they were learning how to be more flexible as a result of COVID-19, with 61% of hiring managers indicating this was the most critical post-pandemic soft skill and nearly the most essential trait (71%) an employee could bring to the table. More than anything else, communication (75%) and time management (72%) were the most commonly identified essential traits for employees post-pandemic. 
8 Most Important Post-Pandemic Soft Skills for Your Career, According to Hiring Managers
Time management
Responsibility
Problem-solving
Communication
Adaptability
Flexibility
Self-motivation
Stress management
Looking Ahead
Some industries have been impacted more than others as a result of COVID-19, but a majority of people looking to get ahead in their professional lives by deepening their knowledge on certain subjects aren't looking for major career shifts.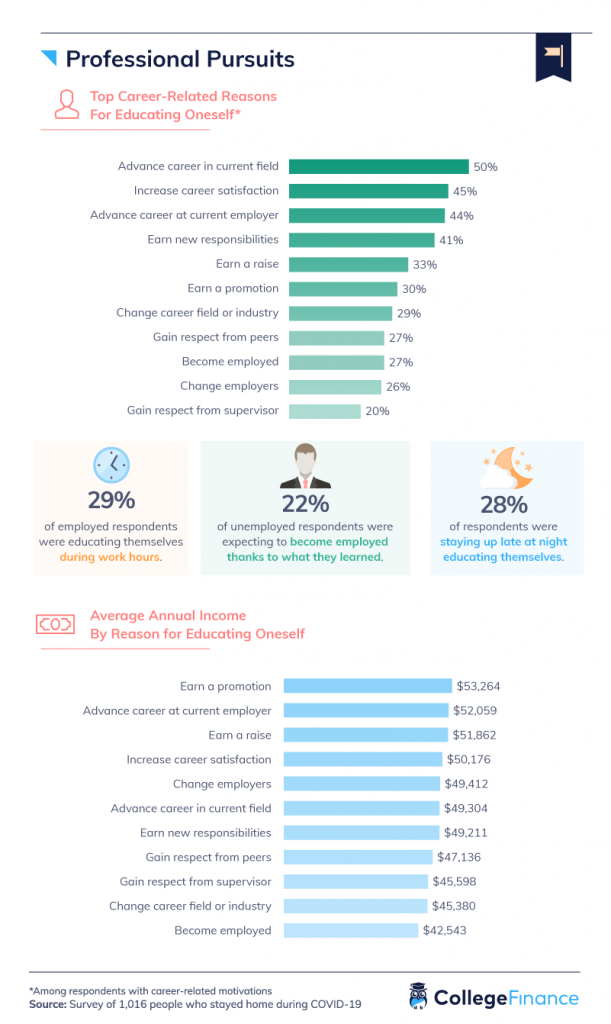 Among people looking for education opportunities specifically with their careers in mind, 50% were looking for advancement opportunities in their current fields, and another 45% were simply looking to be more satisfied with their existing career. People currently earning the highest average annual salaries ($50,000 or more) were the most motivated to learn new skills or information for the opportunity to get a promotion, advance further, or get a raise.
Twenty-nine percent of people still employed also admitted to using their regularly scheduled work hours as an opportunity to educate themselves further. However, we also learned that evenings and after work were the most popular times to focus on learning, with over half of respondents preferring those times. Additionally, 1 in 4 respondents was learning late into the night.
Compared to people who were looking to advance their existing career (44%), pick up new responsibilities (41%), or get a raise (33%), just 29% of people wanted to change their career or industry completely. Among those currently unemployed as a result of the pandemic, 22% expected the knowledge acquired during lockdown to help land them a job in the future. 
Broadening Your Horizons
Whether you're picking up a new hobby from YouTube tutorials or simply looking to expand how well you understand an existing topic or subject, the time you spend learning something new during lockdown can help do more than pass the time or reduce stress. Many people acknowledged picking up soft skills like time management, communication, and self-motivation during the pandemic. Hiring managers now see these skills as being more important than ever and essential for employees looking to succeed. 
Video tutorials and online articles can be great, but if you're looking to make a more impactful commitment to switching careers or major advancement in the workplace, you might be thinking about taking a more permanent step. 
At CollegeFinance.com, we'll be by your side every step of the way. From your options for paying for education now, refinancing your existing college loans, or consolidating your college expenses for the future, we've got you covered. With the right information from the beginning, we know you can minimize borrowing costs and help set yourself up for success in the future. Visit us online at CollegeFinance.com to learn more. 
Methodology and Limitations
We surveyed 1,184 people using the Amazon MTurk platform. We surveyed 1,016 people who have self-isolated or quarantined at least slightly amidst the COVID-19 pandemic, and 201 full-time employees with supervising and/or hiring authority. 555 respondents were male, 460 respondents were female, and 1 respondents did not identify as male or female. Respondents ranged in age from 18 to 76 with an average age of approximately 39.
To help ensure that respondents took our study seriously, all respondents were required to identify and correctly answer an attention-check question. In some cases, questions and responses were rephrased for clarity or brevity.
In certain cases, outliers have been excluded. These data rely on self-reporting, and statistical testing was not performed on these findings. Potential issues with self-reported data include, but are not limited to, exaggeration, selective memory, and attribution errors on the part of respondents.
Fair Use Statement
There's no time like the present to ask "what's next?" If your readers are trying to take advantage of their free time during lockdown, share the results of these findings with them for any noncommercial use with a link back to this page so they have access to our data and methodology.