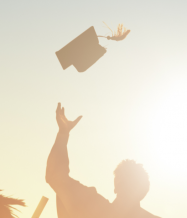 Learn what Jill Biden's free community college plan means and who will benefit.
The College Finance Team

9/15/20

The College Finance Team

9/15/20

Learn what states offer tuition-free community college programs, what their programs entail and their requirements.

What are the best banks for students? This article outlines key features to look for when exploring your banking options as a student.

In this article, we'll cover six things you need to know if you're considering opening a student checking account through Chase bank.

Not all student bank accounts are the same. Find out if a Bank of America student checking account is right for you.

Interested in the TD student checking account? Here's what you need to know about the value of this bank account option.

In this article, we discuss several ways that you can work toward saving money while in school.

Learn the top ways that you can invest while still in college and why you should start investing as early as possible.

Tracking your income and expenses as a student encourages smart money management. Learn more about budgeting for college students.

Learn about personal finance topics you should consider as a student and get tips on how to manage your finances.

Keeping track of personal finances can be overwhelming for college students. With help from these budgeting apps, it becomes much more manageable.

Financial aid is money in the form of grants, scholarships, loans, and work-study that you can use to pay for college expenses.

Effective yet simple budgeting worksheets can help you build better money habits, manage your student loans and reach your financial goals faster.

Find out what the FAFSA is, how it works, who it's for, and how it applies to community college students.

A community college is an institute of higher education offering a variety of vocational, certificate and associate degree programs.

Attending college can be expensive, but there are many ways to attend community college for free while earning an excellent education.

This article covers the cost of attending community college, including an overview of which states offer free tuition and how to qualify.

This article discusses the costs you need to consider when planning your path to higher education at a community college.

Higher education is pricey. California is one state taking steps to make it affordable. Find out how free community college in California is possible.

Community college can benefit students in many ways. Here's how to apply for enrollment.

Discover all you need to know about the application process for community college.

Transferring to a new college can feel overwhelming. Here's what you need to know to simplify the transition.

This article discusses which states have free community college programs and what the requirements are for each.

Learn what Jill Biden's free community college plan means and who will benefit.