In the fall of 2019, nearly 20 million students embarked on one of life's most important journeys: college. This life phase is when teenagers come to learn that every high school teacher was correct – no one is going to hold your hand anymore. The same can apply to new financial responsibilities that students often take on during this time, such as student loans.
Compared to high school, college is a major life adjustment. There's an abundance of new personal freedom, but autonomy comes with a price tag: mom stops making dentist appointments, bills are addressed to you instead of your parents, and eating at home beats broccoli from the dining hall.
To discover which money matters stress out college students the most, we surveyed more than 1,000 recent graduates. Our findings reveal what our participants found surprising, which costs were the most straining, and how the whole college experience panned out in terms of finances.
Are Students Financially Prepared for College?
There's nothing like orientation day. New professors to meet, textbooks to buy, sororities and fraternities to rush, and sometimes, rent to pay on a new apartment. From the first day of college, costs start to add up, and for some students, it might be the first time in their lives that they've been in charge of their own spending. According to our study, only 13.1% of 2019 graduates felt completely prepared to handle their finances during their college years.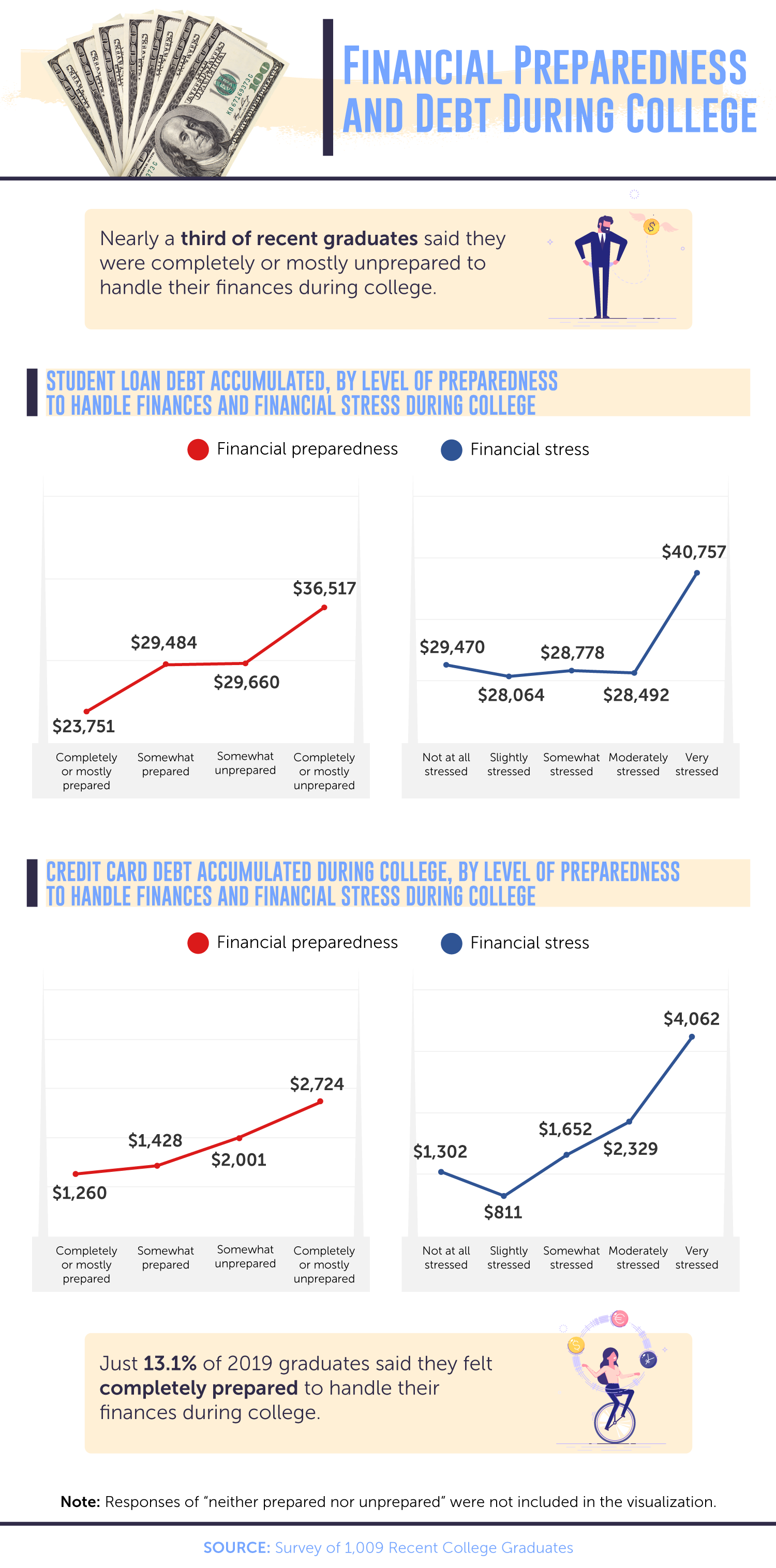 College graduates who racked up less debt during their tenure felt more financially prepared than students who accrued more debt. Our findings show that people who reported feeling very stressed financially accumulated the most student loan debt ($40,757) and credit card debt ($4,062).
Life sometimes comes with stress, but for students, an extra bill doesn't need to take up brain space that could be used to prepare for midterms instead. Here's some personal finance advice: Make a budget – it doesn't have to be complicated – and ask credit card representatives an exam's worth of questions before you sign on the dotted line.

Financial Maturity in College and Postgraduate Employment
Does knowing how to manage finances in college matter? For students who juggle college and full-time employment, money management is critical. One in 5 of our survey participants worked full time during college – remember, books and tuition aren't cheap.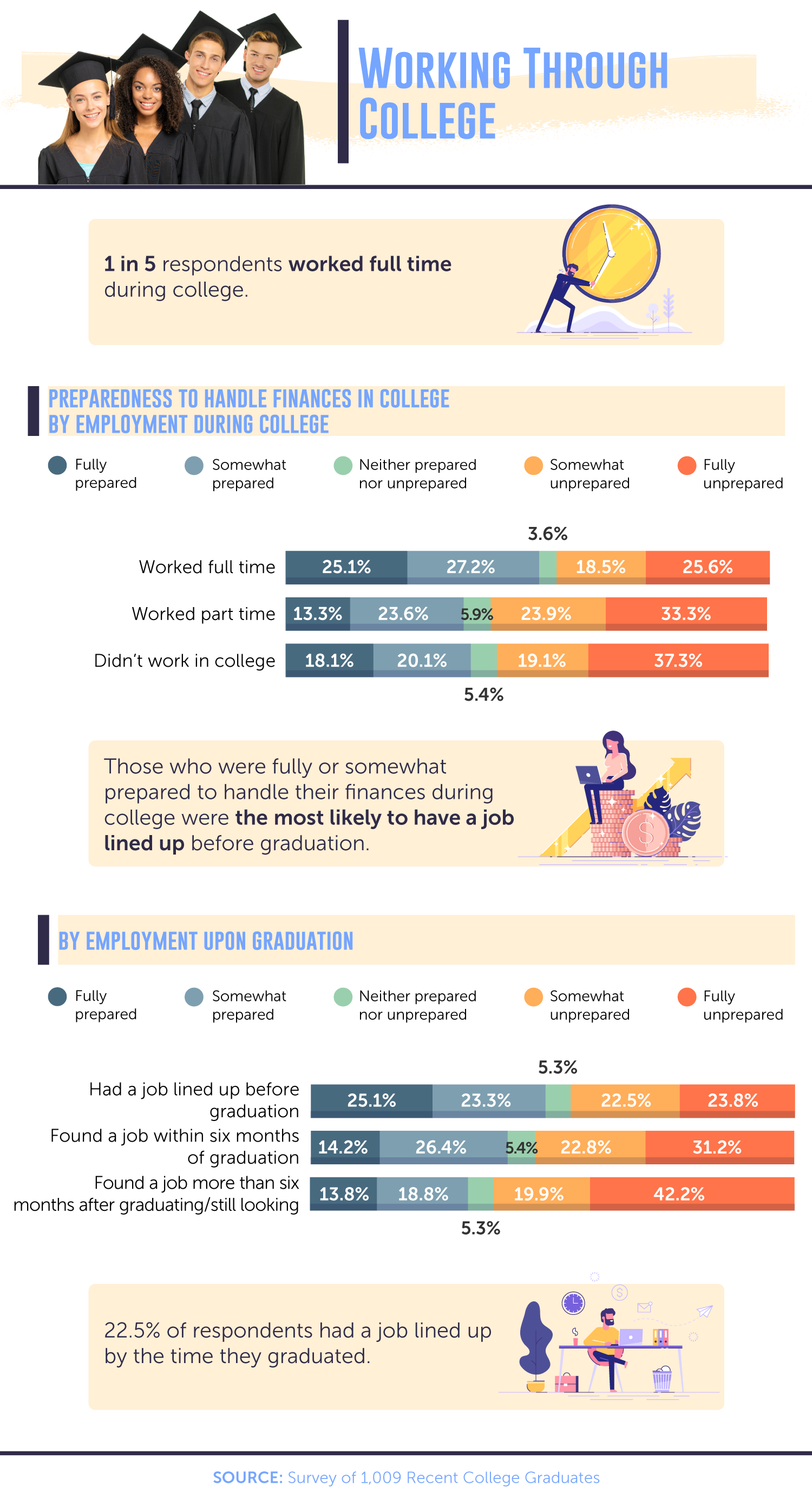 However, balancing a job and academic responsibilities requires some serious adulting skills. Twenty-five percent of students who worked full time while in college reported feeling fully prepared financially, compared to 37.3% of students who didn't have jobs during school and felt fully unprepared.
Our research also shows that college graduates who had a job lined up before graduation were more likely to feel fully prepared financially compared to those who didn't get an offer until after graduation. Forty-two percent of students who received an offer more than six months after graduation – or who were still waiting on an offer – felt the least prepared overall.

How Students Paid for College vs. Stress Levels
Borrowing money to pay for college is a common practice: We borrow money to accomplish something we desire but do not have the liquid funds to accomplish. However, owing money may be a source of unease.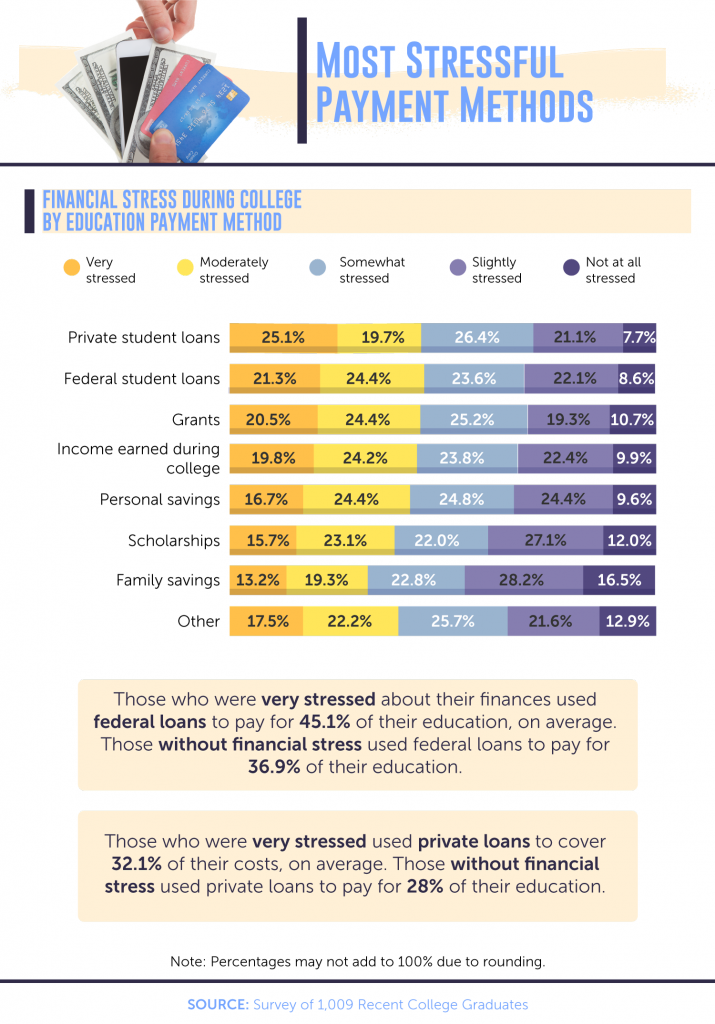 Our findings show that 25.1% of students who used private loans to pay for their schooling felt very stressed during college. By comparison, just 16.7% of students who used their personal savings and 19.8% of those who used income from a job during college felt the highest levels of financial stress.
We encourage students to read their terms carefully – there are no stupid questions when it comes to making long-term financial decisions – and to choose loans that best suit their financial situation and perceived lifestyle after graduation. Doing so could help make the process less stressful.

Crux of College Costs
When it comes to college costs, tuition is an expensive item on most students' lists, but it's definitely not the only thing with a steep price tag. The majority of recent graduates in our study were taken aback by how pricey their seemingly endless lists of expenses were.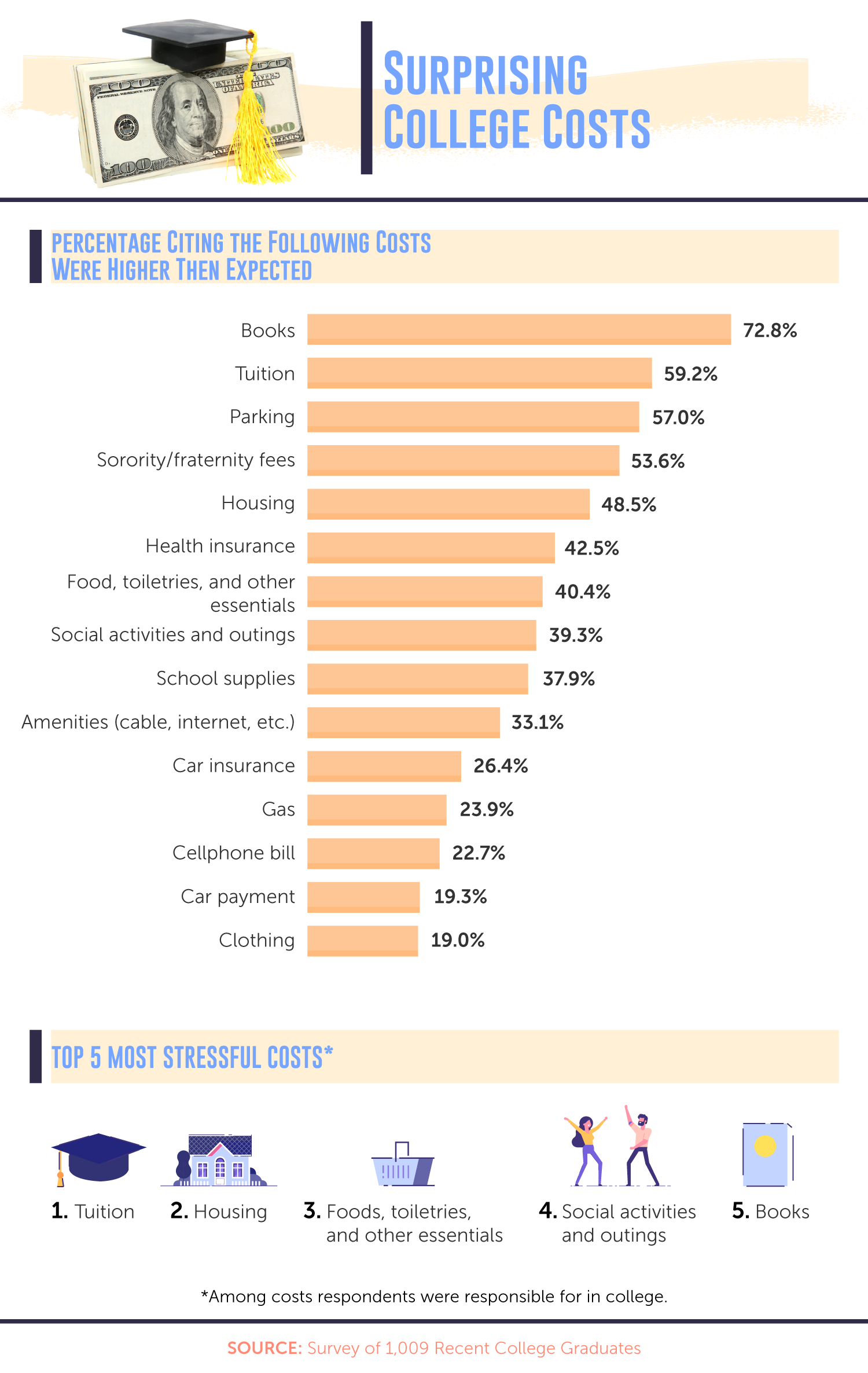 Take books, for example. Nearly 73% of participants said the high cost of books took them by surprise – new ones have to be purchased or rented almost every semester. Although CollegeBoard suggests setting aside just under $1,500 for books annually, depending on the type of university, some students have difficulty covering the extra cost.
Making solid connections in college is like having enough red blood cells – you need them to survive. Who else is going to listen to you complain about the high cost of tuition, health insurance woes, and everything else? But for the students who joined a sorority or fraternity, 53.6% were surprised to learn that it's not cheap.
Looking Back on the College Experience
Forty-two percent of graduates said they incurred too much debt. Conversely, 10% of students who regretted being too frugal with their money during college left school with a relatively palatable $25,000 in debt, on average. Nearly 24% begrudged themselves for spending their college days working and wished they'd allowed themselves time to enjoy their experience a bit more.

Lessons Learned
Knowing we owe someone or some entity money might not be a great feeling, but even many college students who kept a budget graduated with debt. That's because achieving a degree can be expensive. It's up to you to decide whether the education you desire is worth the loan you take on.
Had our survey participants been more financially prepared before starting their college experience, we believe they would have experienced less money-related stress. CollegeFinance.com is thrilled to be a resource for people looking to make big decisions about their education, loans, and personal finance. Come to us before the pressure intensifies.
Methodology
For this study, we surveyed 1,009 university graduates who had completed a bachelor's degree or higher. 86.7% of respondents graduated between 2015 and 2019, and 13.3% graduated before 2015. 69.5% graduated from a public four-year university; 28.3% graduated from a private four-year university; and 2.2% graduated from a community college or other type of university. Respondents ranged in age from 20 to 59. The mean age was 26.8, and the standard deviation was 5.1.
Since there was no scale available to measure feelings of financial preparation at the beginning of college, we created our own. Respondents were asked to specify how prepared they felt to handle their finances in college, and they could choose from one of the seven following options:
Completely unprepared
Mostly unprepared
Somewhat unprepared
Neither unprepared nor prepared
Somewhat prepared
Mostly prepared
Completely prepared
Some of the above responses were grouped to maintain a quality sample size. Responses of "neither unprepared nor prepared" were not visualized because of insufficient sample sizes.
Outliers in numerical data were removed from the analysis.
Limitations
This survey is based on self-reported data, so it may be subject to certain limitations, such as telescoping and exaggeration.
Fair Use Statement
Knowing there are nearly 20 million students who started college this year, we encourage you to share our research. However, we do ask that you only use our findings for noncommercial purposes. Please cite the authors and link back to this page when you share as well.