In the weeks since the White House urged Americans to take social distancing seriously, avoid gatherings in groups of more than 10 people, and refrain from nonessential shopping, traveling, social visits, and dining out, millions of Americans have felt the financial effects of the new coronavirus.
More Americans (at least 9.95 million) filed for unemployment benefits in March 2020 than had filed in the 10 months prior. Amid the sharpest rise in unemployment in American history, the Coronavirus Aid, Relief, and Economic Security (CARES) Act was signed into law on March 27. Among other things in the $2 trillion relief package, the CARES Act includes individual checks of up to $1,200 (and an additional $500 for each dependent child) to be paid to Americans, although this is contingent on certain income qualifications.
But is $1,200 enough? Should the CARES Act include payments to Americans at all, and if so, should these payments be lower or higher? To answer these questions and more, we surveyed over 1,000 Americans for their reactions to the CARES Act. Read on as we explore how much money parents believe should be issued for dependent children, what Democrats and Republicans perceive as ideal amounts, and when Americans believe their stimulus check will be issued.
American Expectations of Stimulus Relief
Nearly 90% of Americans believed it is appropriate for the CARES Act to include direct cash payments, but many believed the maximum $1,200 (for individuals) is too low.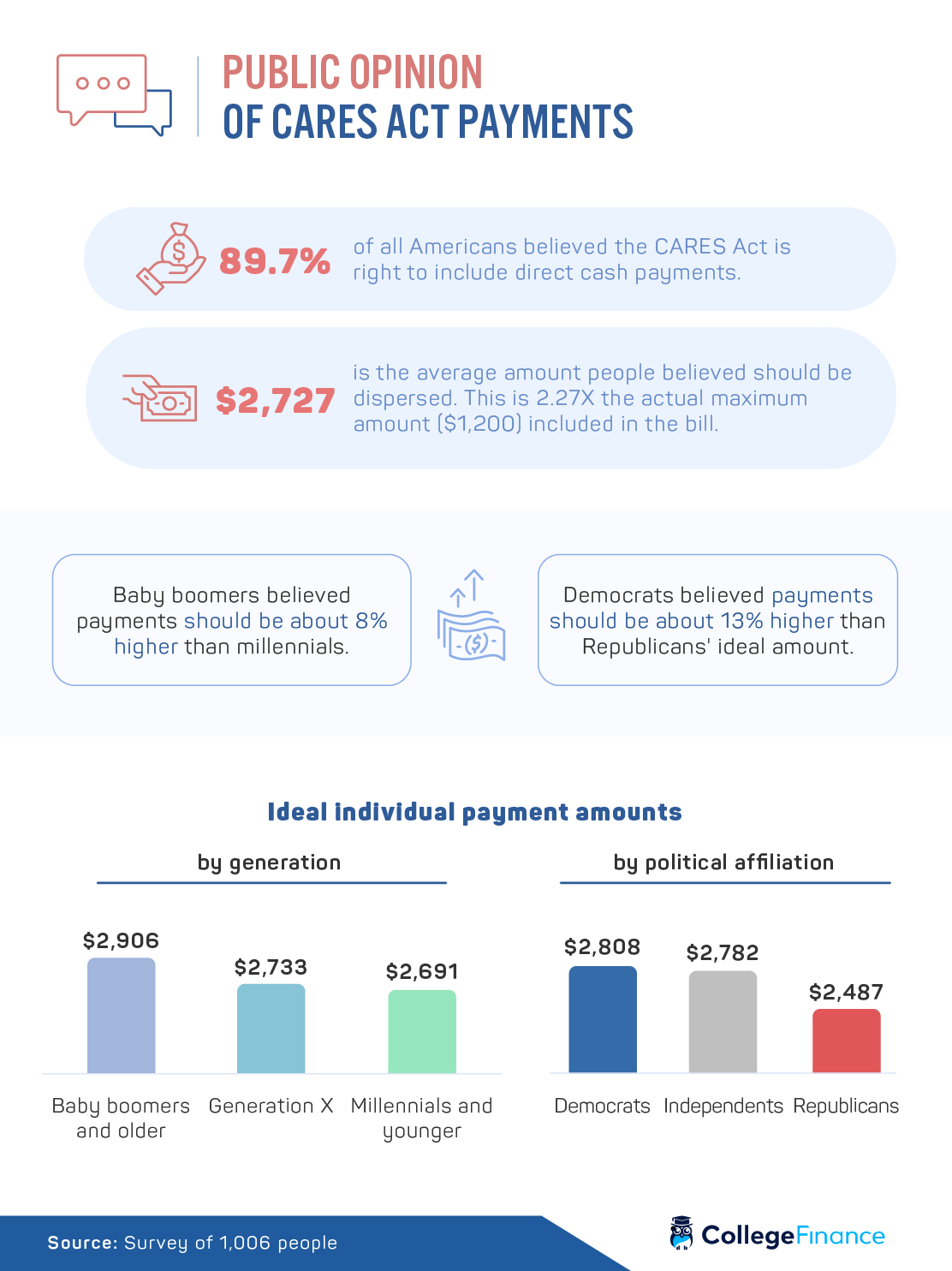 On average, Americans believed the stimulus check should be $2,727, more than twice the amount of money provided by the CARES Act. When asked how much individual payments should be, baby boomers and older participants indicated the highest amount at around $2,900. In contrast, millennials and those younger believed stimulus checks should be less than $2,700, still more than twice the amount determined by the bill.
Democrats and Independent voters surveyed were nearly in agreement over how much money individuals should be granted by the CARES Act, averaging roughly $2,800. Republicans, on the other hand, believed Americans should be issued stimulus checks for less, averaging nearly $2,500, but still over $1,000 more than actual individual payments.
Financial Support for Children
Like individual payments, Americans believed the amount of money issued for dependent children by the CARES Act is too low. While the stimulus bill provides parents with $500 for each child younger than 18 living at home, respondents believed the CARES Act should provide $936 per child dependent, on average.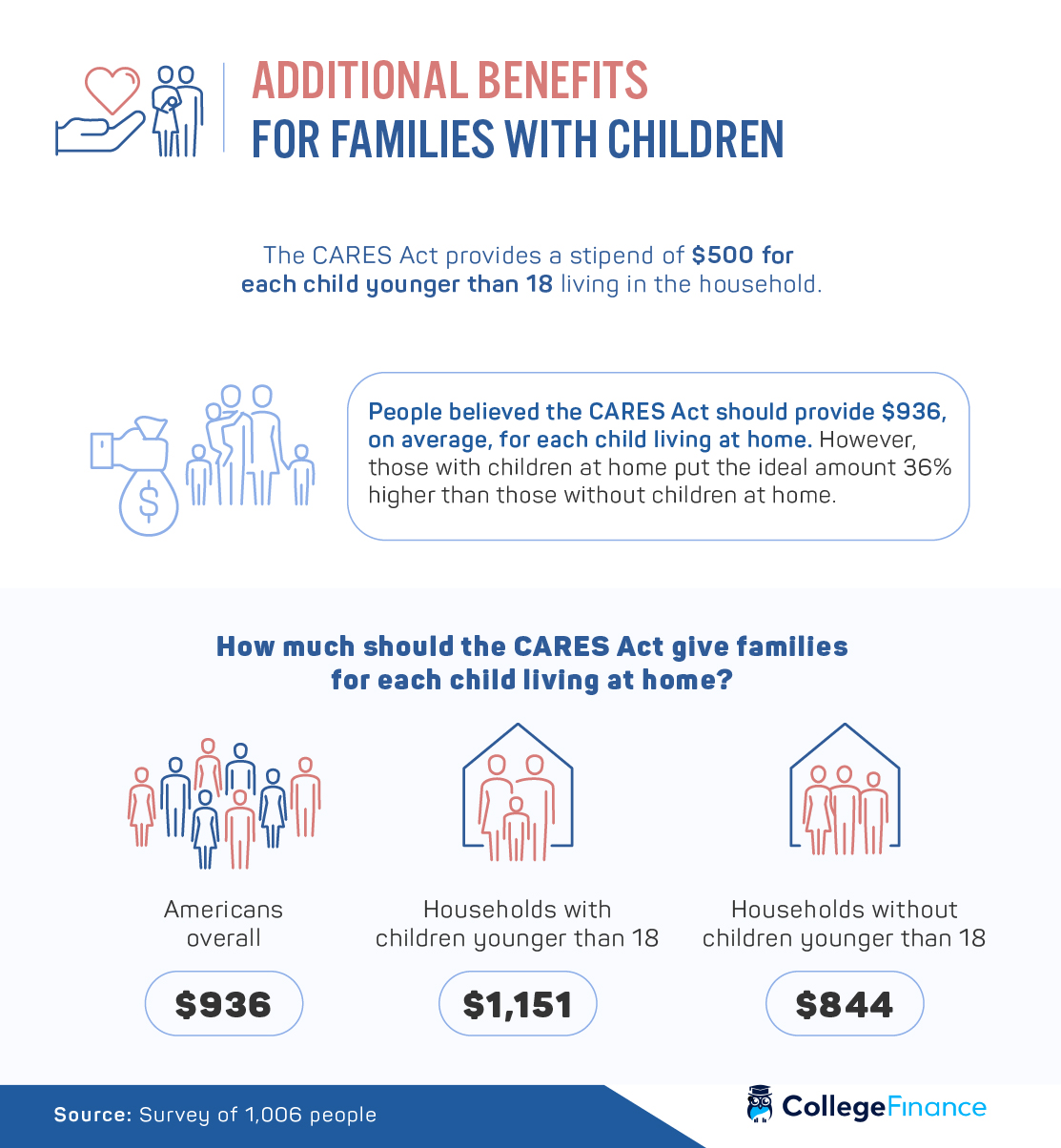 People in households with children younger than 18 believed payments for dependents should be even higher, averaging $1,151 compared to $844 among respondents without children living at home. According to the U.S. Department of Agriculture, monthly food expenses for minor children can range from $96 to $358, depending on age and how much food they eat. The CARES Act provides a one-time payment of $500 for each dependent child, which in some cases, wouldn't cover the cost of food at home for more than a month.


Income Requirements
The CARES Act has income requirements before Americans can qualify for individual payments. Single adults with an adjusted gross income of less than $75,000 (or $150,000 for taxpayers filing jointly) qualify for the full $1,200 amount, decreasing incrementally up to $99,000 (or $198,000 for those filing jointly). According to the bill, a family with two children will be ineligible for payments if their income surpasses $218,000.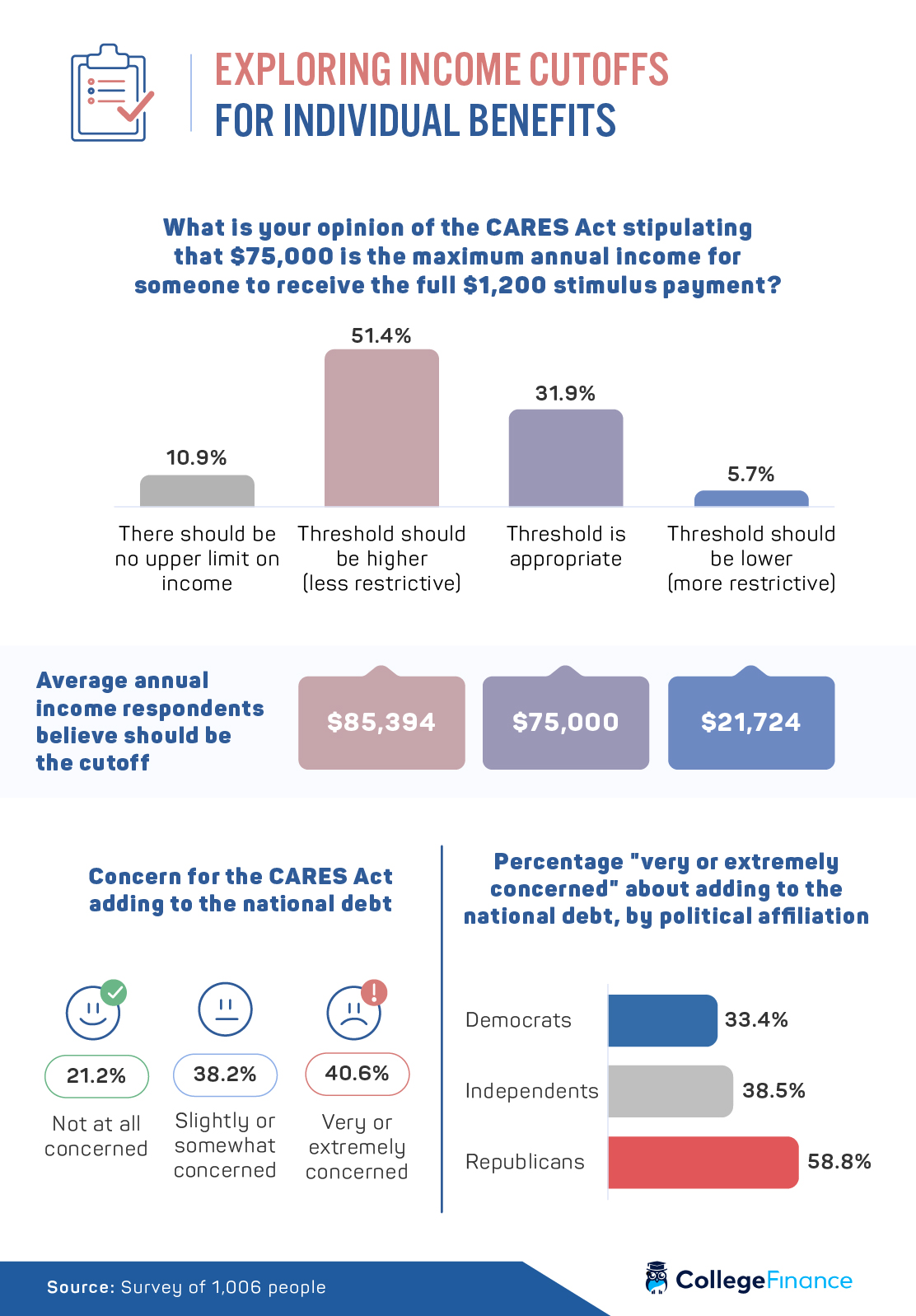 More than 1 in 10 Americans believed there should be no upper limit on income for stimulus payments through the CARES Act, and over half felt the threshold for eligibility should be higher. On average, those indicating that income requirements are too stringent believed the threshold should be raised to $85,394, on average. Less than 1 in 3 Americans indicated the income threshold was appropriate, and fewer than 6% said the income threshold should be lower.
The stimulus package is, by far, the largest in modern U.S. history. With such a large sum being added to the federal balance sheet, nearly 41% of Americans reported being very or extremely concerned about the impact of the CARES Act on the national debt, with another 38% being slightly or somewhat concerned. More than 1 in 5 Americans were not at all concerned, however. There was also a distinct political divide among individuals who were very or extremely concerned with the impact on the national debt: The highest level of concern belonged to Republicans (almost 59%), compared to that of Independent voters (about 39%) and Democrats (around 33%).
Stimulus Payday
At the time of this writing, the U.S. government has not issued a firm date by which Americans can expect to receive individual payments through the CARES Act, but the process is expected to take weeks and vary based on location and an individual's current tax standing.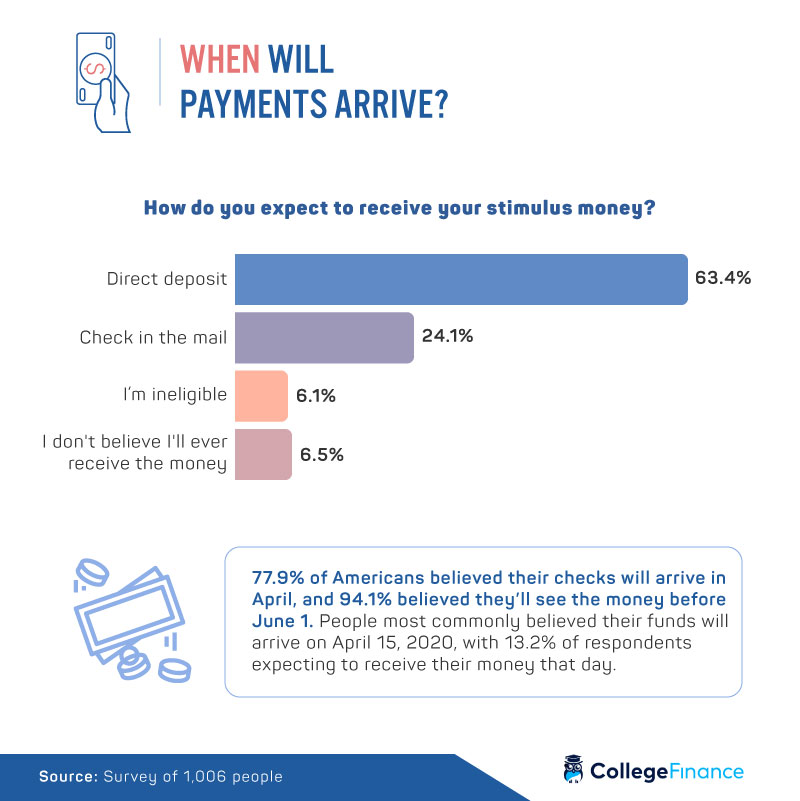 While 63% of Americans expected to have the money directly deposited into their bank account, nearly 1 in 4 expected to receive a check in the mail. Another 6% of respondents indicated they weren't eligible for the individual payment, and 7% didn't expect to ever receive their stimulus payment.
More than 3 in 4 Americans anticipated payments to arrive in April 2020, while 94% expected to receive payments before June 2020. The most commonly projected date for funds to arrive was April 15, 2020, according to 13% of Americans.
The Student Perspective



The CARES Act isn't just providing Americans with a one-time stimulus payment. The bill also provides relief in the form of deferred federal student loan payments, deferred interest on federal student loan payments, and waived garnishment of wages, Social Security, and tax refunds.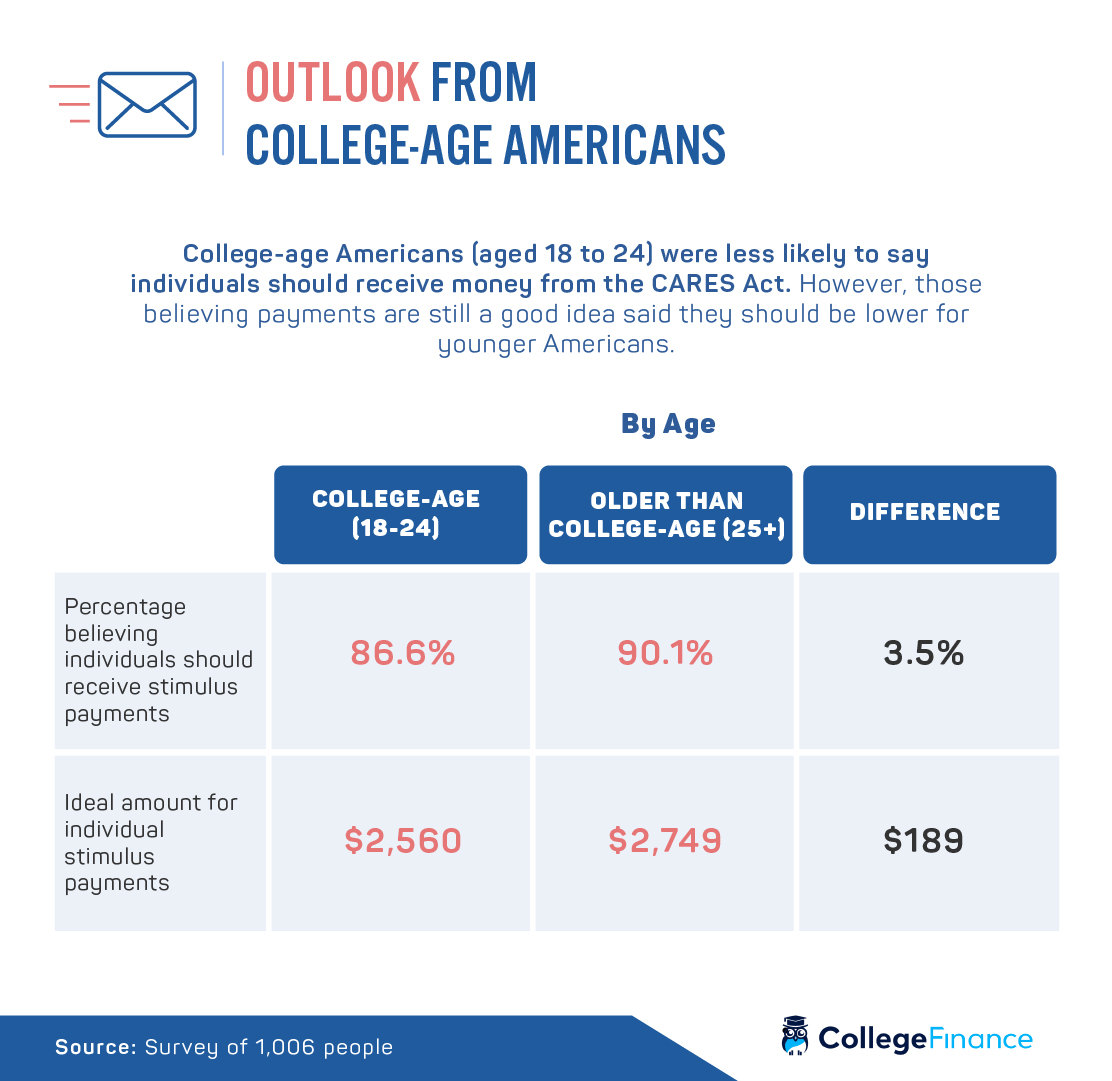 Still, college-age Americans were less likely (nearly 87%) than older Americans (90%) to indicate individuals should receive money from the CARES Act, and they also indicated payments should be lower ($2,560), compared to older respondents ($2,749).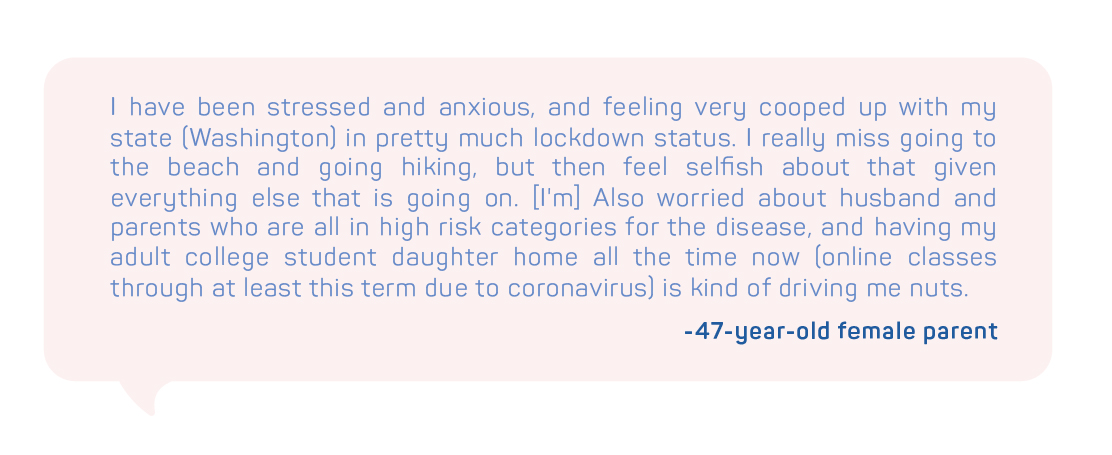 Measuring the Financial Impact
The global impact of COVID-19 has led to a health crisis unlike any before it. In addition to the physical and emotional effects caused by the virus, Americans are also feeling an economic impact.
While the $2 trillion CARES Act may provide some relief in the coming weeks and months, many Americans believe the bill won't do enough. Regardless of their demographic or political affiliation, Americans agree that individual payments should be twice as much, and many disagree with the income restrictions. Particularly if you are a current or prospective student, or are struggling with student loans during the crisis, you should know that you have a wide array of options at your disposal for relief. At CollegeFinance.com, we can help you asses your current loan or repayment schedule and make sure you understand all of the options at your disposal.


Methodology and Limitations
This poll was conducted on March 30, 2020, and surveyed 1,006 Americans aged 18 and older. This sample included 558 men, 443 women, 292 Republicans, 446 Democrats, 241 Independents, 133 baby boomers, 267 members of Generation X, 556 millennials, and 112 Americans between the ages of 18 and 24. The median age of the sample was 35 with a median annual income of $45,000. The poll was hosted on SurveyMonkey, and respondents were obtained via Amazon Mechanical Turk. All data was obtained by self report, and therefore is inherently limited by known issues with this form of data collection
Fair Use Statement
We encourage you to share the findings of our study on sentiment toward the stimulus bill with your readers for any noncommercial use. We just ask that you include a link back to this page in your story so that they have access to our full report.