The new coronavirus has had far-reaching consequences, affecting not only businesses and the economy but also our daily life: Colleges have moved online, student loans have undergone changes, sports have been canceled, and communities have shifted. So, we thought it was time to check in: How are Americans feeling?
We spoke to more than 1,000 people to see how they are handling social distancing during the COVID-19 pandemic. They told us how their mental health has been impacted, their current fears, and how they think the government and public at large are handling the situation. If you'd like a glimpse into Americans' current mindset related to the coronavirus, keep scrolling.
Everyone's Doing It (Almost)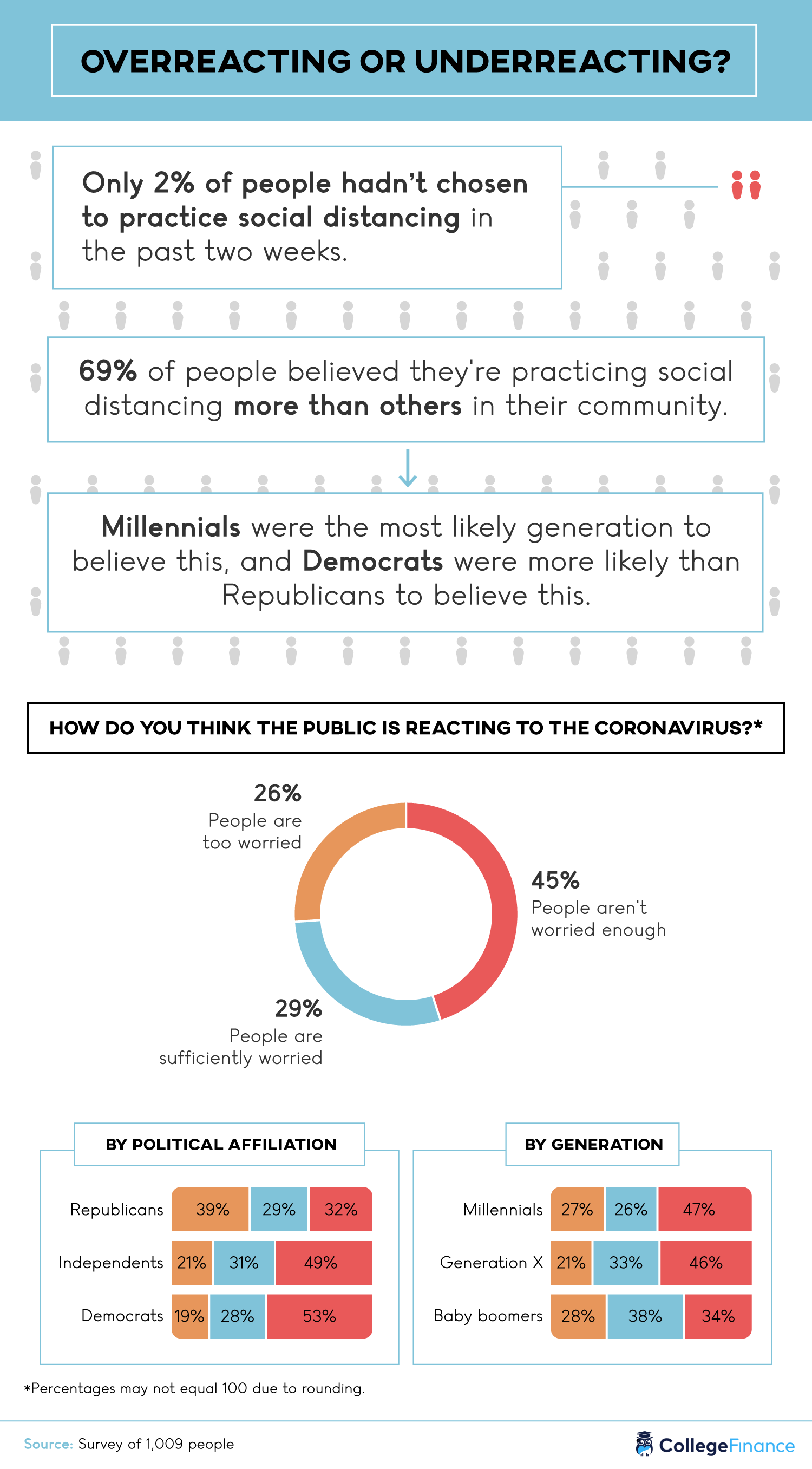 We first assessed the level of worry over the coronavirus. Most often, Americans felt the public wasn't worried enough or that those who were worried had every right to be. Only 26% of people thought people are too worried. Millennials were the most likely generation to believe others aren't reacting enough, as were Democrats compared to Republicans and Independents.
This worry, however, is evidently sufficient toward driving public behavior: Only 2% of people had not socially distanced themselves in the past two weeks. Additionally, millennials and Democrats felt they were socially distancing themselves more than others in their community.
Fortunately, social distancing "is working," according to Dr. Anthony Fauci. That said, we'll need more information regarding the number of new cases in the coming weeks to understand how effective social distancing has really been.
Handling It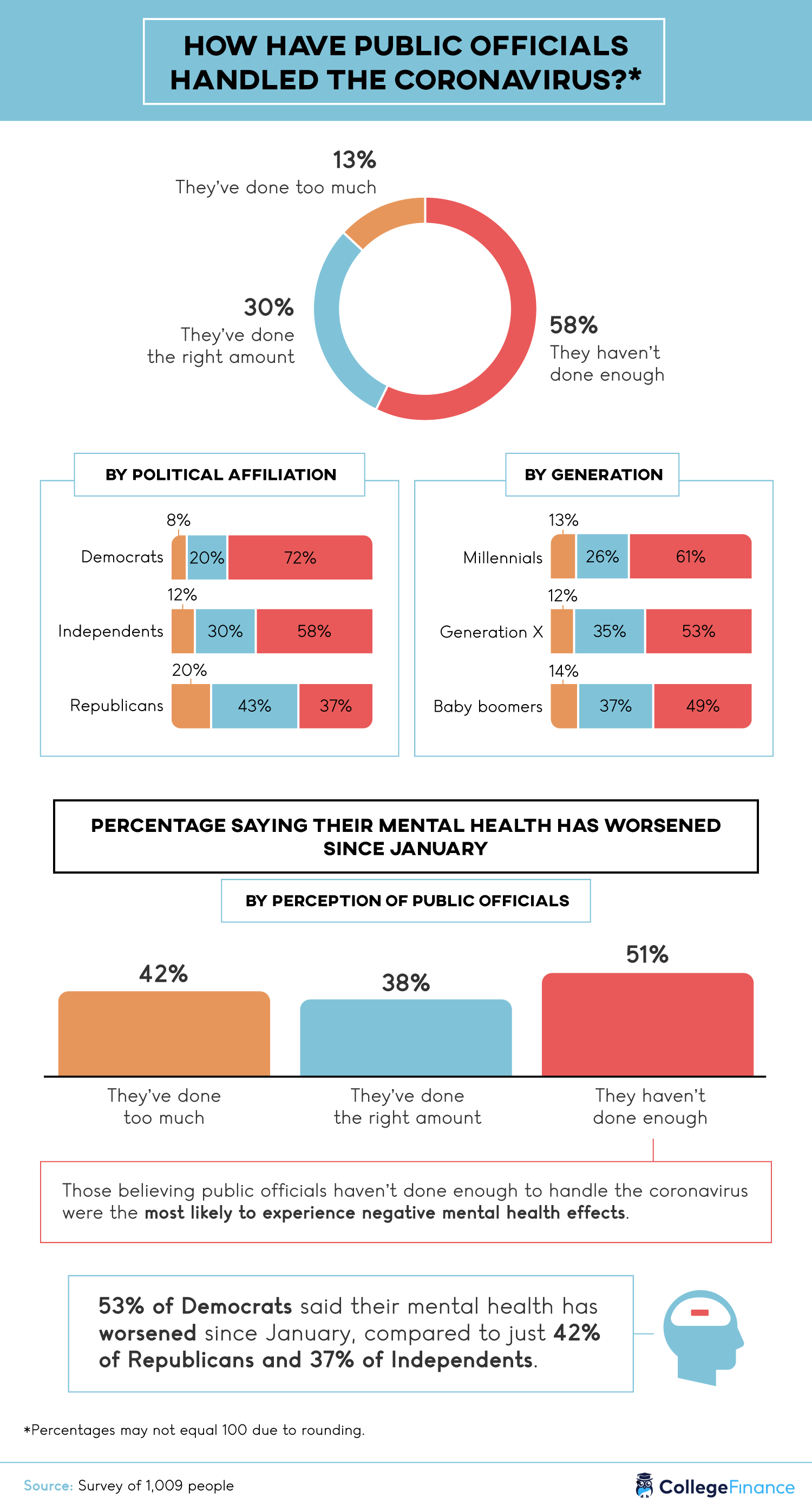 Mental health has gotten markedly worse across the country since January. Even 38% of those who felt the government had done enough to fight the virus still experienced a decline in their mental health. Psychologists tell us that isolation can be a "big trigger" for those already dealing with mental health issues. Job losses, which are estimated to total 47 million in the U.S. soon, are also enormous triggers for the mental well-being of former employees.
For college students, moving a class online isn't as easy as giving every student a Zoom account. One recent study found that 20% of students are having trouble meeting their basic technology needs at home, particularly lower income students. A college course load is already stressful enough without technological issues, not to mention the loss of in-person study buddies as well as friendships.
Democrats were the most likely to report deteriorating mental health since the virus outbreak, and they were also the most likely to feel underserved by public officials during this time: 72% thought public officials had not yet done enough. Even those who felt the government was doing enough to combat the virus, however, commonly experienced a worsening state of mind.
The National Institute of Mental Health is keeping a close eye on the pandemic and continues to offer its resources. Other public figures and businesses have also published a trove of free resources, including everything from meditations to workouts and writing workshops. The New York Times even did its first crowdsourced, at-home edition of the popular "36 Hours" series. As quarantine endurance continues to be tested, these resources can be helpful for you and your loved ones to use if you need a mental boost.
Family First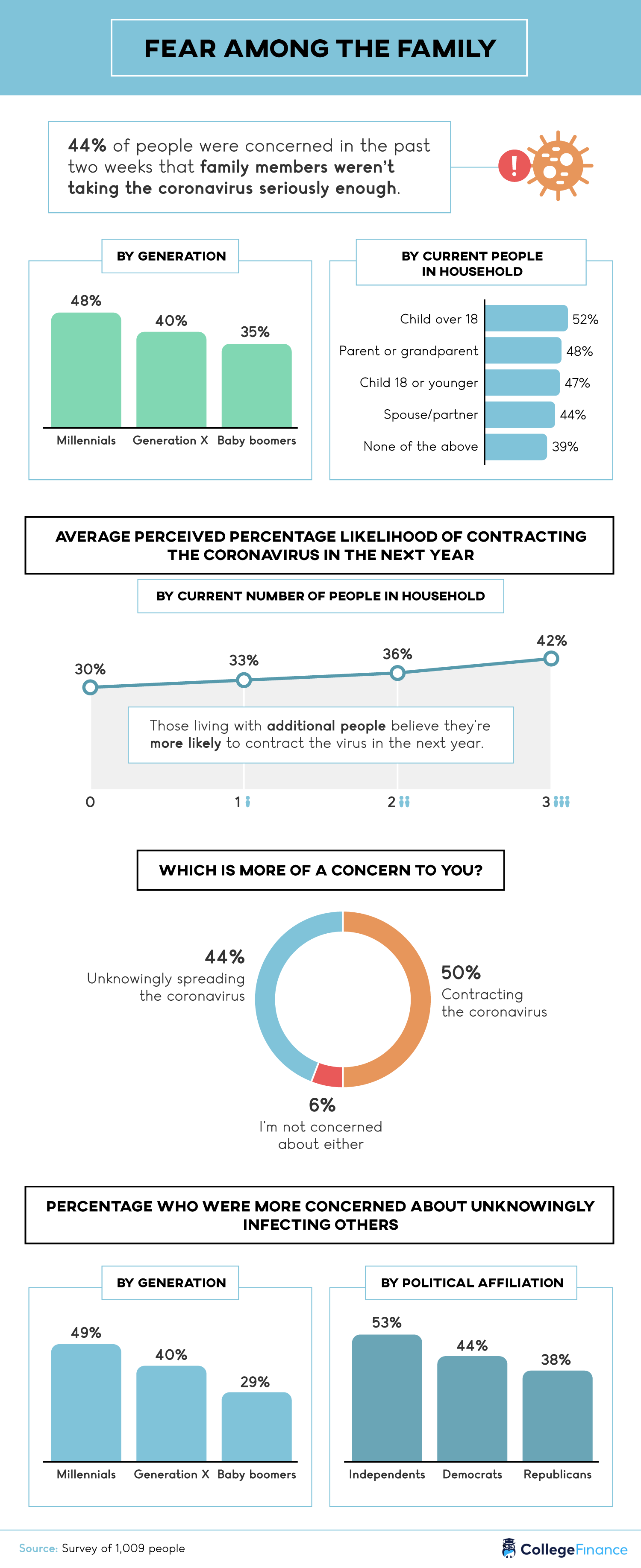 What we'll call your "quarantine crew" is likely impacting your outlook on COVID-19: 44% said they have felt recent concern that their family members aren't taking the virus seriously enough. Respondents with a child over the age of 18 in the house were the most likely to express this concern. Having parents or grandparents in the household also caused greater concern than living with a spouse or partner. The coronavirus has even tarnished the expression, "The more, the merrier": Those living with more people were more likely to think they were going to contract the virus at some point this year.
College students seem to share this belief but feel particularly unafraid of the repercussions. University of Texas students made countless headlines for refusing to forgo their spring break, which resulted in more than half of the group contracting the virus. Perhaps concern (but hopefully not the disease) has since spread.
In fact, half of the people in our study were more concerned they would catch the virus, compared to 44% who were more concerned they would spread the virus unknowingly. Only 6% were unconcerned about either. Millennials and Independents were the most likely to fear passing the virus onto others unknowingly. As many as 25% of COVID-19 cases are now thought to be asymptomatic, yet still highly contagious.
Care in the Time of the Coronavirus
The American public is feeling the effects of the coronavirus beyond physical symptoms. Respondents often reported worsening mental health, a sense of certainty that they would contract COVID-19 at some point, and concern that the members of their household weren't taking the pandemic seriously enough.
One of the major potential casualties that we're dedicated to preventing, however, is the world of college education. Your experiences and learnings will last a lifetime, and should be fostered even in the midst of an outbreak. With finances being particularly fragile situations for many Americans today, College Finance is here to help. Whether you need help with borrowing, planning, or repayment, College Finance is one sure thing you have to rely on in today's unpredictable world.
Methodology and Limitations
We used Amazon Mechanical Turk to survey 1,009 people about their experiences with social distancing and perceptions of how others have handled it, as well as their fears toward COVID-19. For respondents to be included in our data, they were required to complete the entire survey and pass an attention-check question in the middle of each survey. Participants who failed to do either of these were excluded from the study.
Of all respondents, 56% were men, 44% were women, and less than 1% identified with a nonbinary gender. Fifty-six percent of respondents were millennials (born 1981 to 1997); 29% were from Generation X (born 1965 to 1980); 12% were baby boomers (born 1946 to 1964); 2% were from Generation Z (born 1998 to 2017); 1% were from the silent generation (born 1928 to 1945); and less than 1% were from the greatest generation (born 1927 or earlier). The average age of respondents was 38, with a standard deviation of 12 years. In terms of political affiliation, 44% identified as Democrats; 24% identified as Independents; 29% identified as Republicans; and 3% identified with another party. The statistic of "Only 2% of people hadn't chosen to practice social distancing in the past two weeks" was calculated among people who are currently nonessential employees or unemployed. Essential employees were excluded from that analysis.
The data we are presenting rely on self-reporting. There are many issues with self-reported data. These issues include, but are not limited to, selective memory, telescoping, attribution, and exaggeration. In finding averages of quantitative values, we removed outliers so that the data were not exaggerated.
Fair Use Statement
Fortunately, the coronavirus has not taken away our ability to share and connect online. You are welcome to share this article with others, but be sure your purposes are noncommercial and that you link back to this page.