Imagine spending four or more years of your life in a place where you make lifelong friends and have nearly every educational resource at your fingertips. That's what attending college is like for most Americans, but it often comes at the cost of student loans upon graduation.
However, higher education is more than a social club. According to MarketWatch, the current job market favors those with postsecondary education. So what's the public perception of college?
We surveyed more than 1,000 college and high school graduates to uncover if Americans value college. Our findings are broken down by age and education level. Keep reading to learn more.
Is College a Good Investment?

Some of America's most notable entrepreneurs are college dropouts who've gone on to start companies that employ people without four-year degrees. Despite this trend, 68% of high school and college graduates surveyed felt a college degree was a good investment.
If our participants could go back in time, they wouldn't avoid college. Seventy-six percent said it's because a degree leads to more career opportunities. And they might be onto something: 9 in 10 new jobs are going to college-educated applicants.
Our research also found that the more time people spend in educational institutions, the more likely they are to value college. Only 39% of high school graduates in our study thought college is necessary for a good career, compared to 63% of people with a graduate degree; people with associate and bachelor's degrees fell in the middle.
Job Opportunities, by Education Completed

Most states require that parents enroll their children in school from the time they're elementary-aged until they reach their late teens. College isn't mandatory, but it's widely expected.
When we explored how long it took respondents to secure a job after graduation, we learned that 48% of high school graduates found work in less than a month, compared to 33% with a college degree. However, it pays to pursue higher education: College graduates earned nearly $13,000 more than high school graduates annually.
If someone is looking to land a job quickly, their immediate circle is most useful: 31% of high school graduates found work through family or friends. However, college graduates were most likely to land a job using an online platform (31%) or via networking (30%).
How Student Loans Work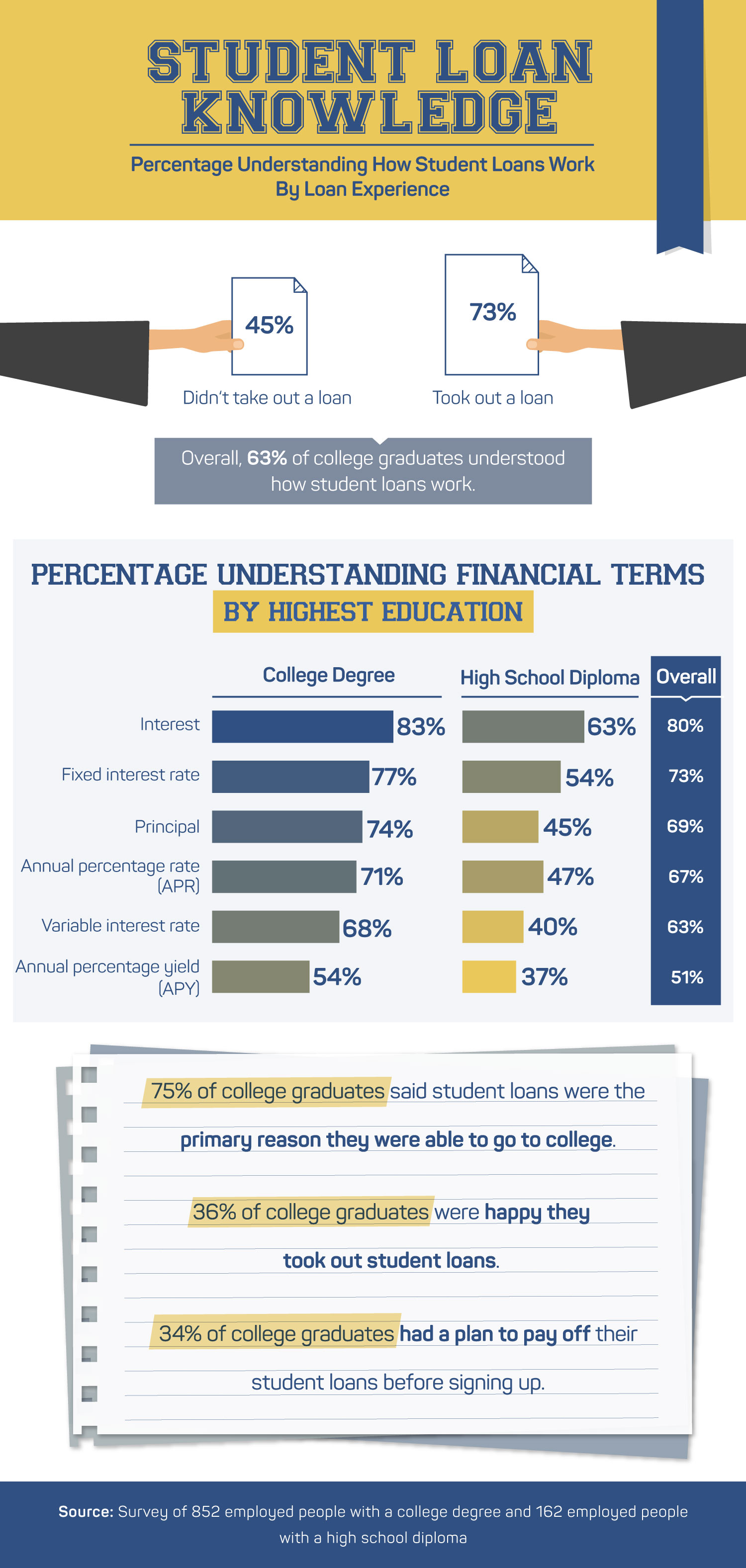 In recent years, lower-wage jobs have gifted the workforce an interesting incentive: free college tuition. Although the list of programs that beneficiaries can choose from is limited, this shift signals a path to higher education that is in demand.
Without the benefit of having tuition paid for, achieving a college degree can be expensive – that's where student loans come in hand. The trouble? Thirty-seven percent of college graduates admitted they didn't understand how student loans work. Incomprehension could lead to poor planning, so we went ahead and tested our participants' financial literacy.
College graduates were more money smart than high school graduates. For example, 83% of college graduates understood the term "interest" mostly or very well, compared to 63% of high school graduates. However, both groups grasped "annual percentage yield" the least.
Paying Back Loans

Whether a signer understands the terms of his or her loan, they'll have to pay it back. All of the participants in our research, aged 20 to 40 and older, had an average loan balance greater than $25,000. However, their monthly payments varied drastically. College graduates in their 20s wrote checks for upward of $300 per month, while those in their 30s ($277) and 40s and older ($223) paid significantly less.
Thirty-six percent of respondents aged 40 and older had been paying off student loans for more than seven years. Depending on how you view the glass, though, that's not bad – the majority of people in this age group no longer owed money.
There's Value in Higher Education
The National Center for Education Statistics projects an increase in college attendance over the next nine years. That's consistent with what our research found: Obtaining a college degree is valuable, and the majority of Americans are willing to invest their time and money in fulfilling a postsecondary degree.
Our findings show that college graduates have more financially advantageous lives than those who only completed high school, so we're confident they have the means to pay back their student loans. It'll take some planning, but we at CollegeFinance.com are here to help answer your questions.
Methodology
We surveyed 852 higher education graduates. To qualify, respondents had to have at least one of the following: associate, bachelor's, or graduate degree. Any respondent with a degree below those was disqualified.
We surveyed 162 high school graduates. To qualify, respondents had to be high school graduates with no further education. Any degree or certificate other than a high school diploma or the equivalent (e.g. GED) was disqualified.
Respondents for both surveys had to be either employed or self-employed. Respondents who were unemployed were automatically disqualified. Respondents had to answer questions about their educational decisions, outcomes after graduation, knowledge of financial literacy, and student loans.
Respondents ranged in age from 23 to 58 with an average age of 36 and a standard deviation of 9. Forty-eight percent of respondents identified as women, and 51% identified as men. For short, open-ended questions, outliers were removed. To ensure that all respondents took our survey seriously, they were required to identify and correctly answer an attention-check question.
For higher education graduates, our sample size was 852 with a confidence level of 95% and a margin of error of 3%. For high school graduates, our sample size was 162 with a confidence level of 95% and a margin of error of 8%
Limitations
These data rely on self-reporting by the respondents and are only exploratory. Issues with self-reported responses include but aren't limited to exaggeration, selective memory, telescoping, attribution, and bias. All values are based on estimation.
Fair Use Statement
We appreciate that you think our research on the value of college is useful. Please only use our findings for noncommercial purposes. We also ask that you cite the authors and link back to this page.