A few decades ago, the idea of cryptocurrencies may have seemed laughable. At the very least, the simple idea of a computer-generated currency may have left the average American with more questions than answers. In contrast, by 2021, crypto seems to be everywhere, with Bitcoin (arguably the most well-known of the cryptocurrencies) reaching an all-time high in February of over $50,000. With celebrity endorsements and social media hype, it's safe to say that crypto-mania has reached a fever pitch. Even with student loans lingering over their heads, college students have not shied away from cryptocurrency as an investment.

Younger generations (including millennials) are typically more likely to invest in cryptocurrency, and as many as 1 in 5 college students have used their student loans to buy into crypto investments. 
So just how invested are young people in the cryptocurrency craze? To find out, we surveyed over 560 people, including current college students and recent college graduates, to find out how and why they were investing in cryptocurrencies. Read on as we explore when students started investing in general; what they're buying into; how many are invested in cryptocurrencies; and how they feel about the long-term growth opportunities of their purchases. 
How Students and Recent Graduates Approach Investing
Expert advice suggests young people should start investing in their 20s, even as little as $100 a month. According to Suze Orman, the amount of money young people put away is actually less important than the age that they begin investing to help secure their future.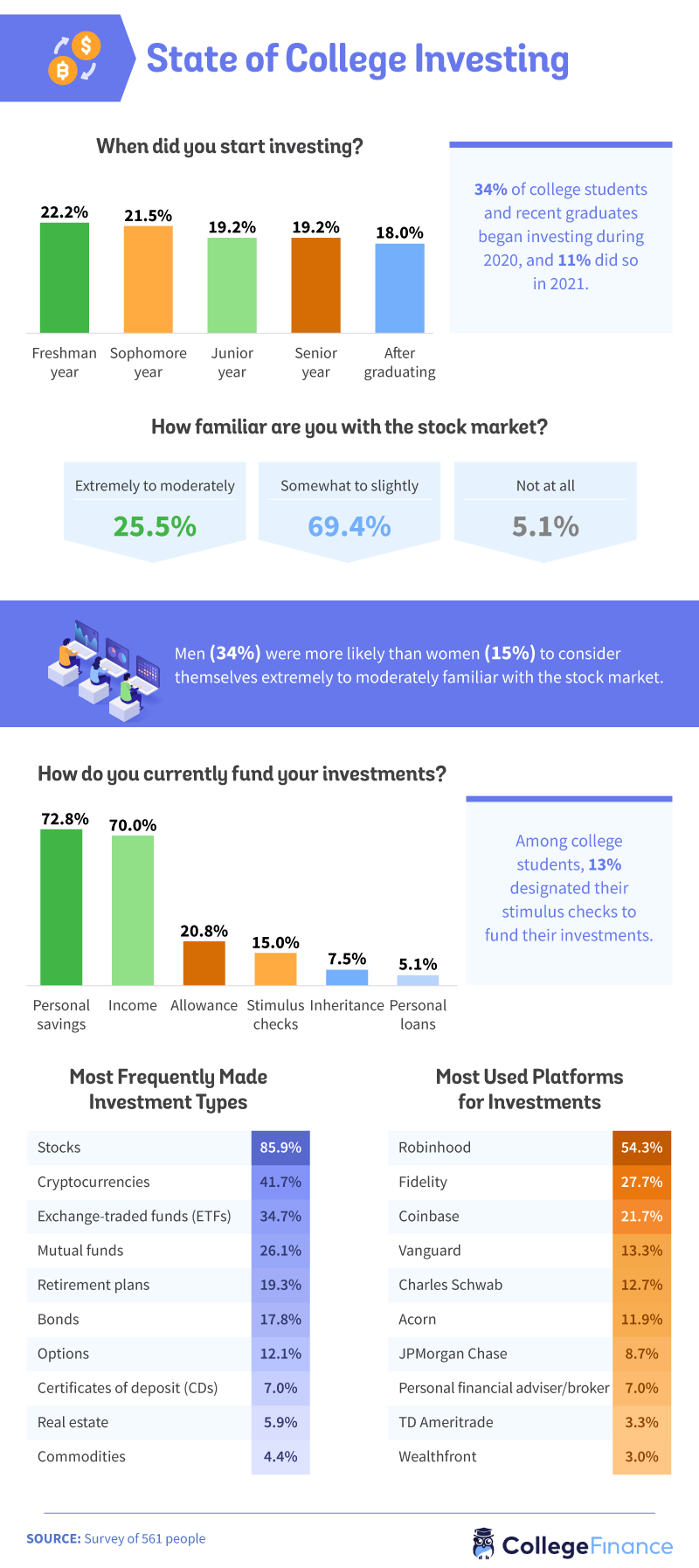 Among those surveyed, 34% said they began investing in 2020 for the first time, and 11% said they began investing in 2021. For 22% of current and former students, investing began as early as freshman year of college, followed by sophomore year (22%), junior year (19%), and senior year (19%). With just 5% of respondents admitting to not being familiar with the stock market, 69% said they were somewhat to slightly familiar with the market, and 26% were extremely familiar with stocks. Men surveyed (34%) were more likely than women (15%) to report having extreme to moderate knowledge of the stock market.
Seventy-three percent of current and former students funded their investments with personal savings, followed by personal income (70%), allowances (21%), stimulus checks (15%), and inheritance money (8%). Just 5% said they fund their investments with personal loans. Most commonly, respondents indicated investing in stocks (86%), cryptocurrencies (42%), and exchange-traded funds (35%). Fifty-four percent of current and former students also reported using Robinhood as their investment platform of choice, which has seen a massive boom among millennials during the COVID-19 pandemic. 
Students' Relationship With Cryptocurrency
Compared to 46% of recent college graduates, 53% of current students reported having invested in cryptocurrencies. While 31% of respondents rated the risk of their cryptocurrencies as moderate, 24% said they were moderately aggressive, and 15% said their investments were aggressive. Among those with an aggressive stance on crypto investments, respondents were more likely to say they had an investment strategy in place (20%) than not (10%). Ninety percent of people surveyed said they hadn't talked to a financial adviser about their plans.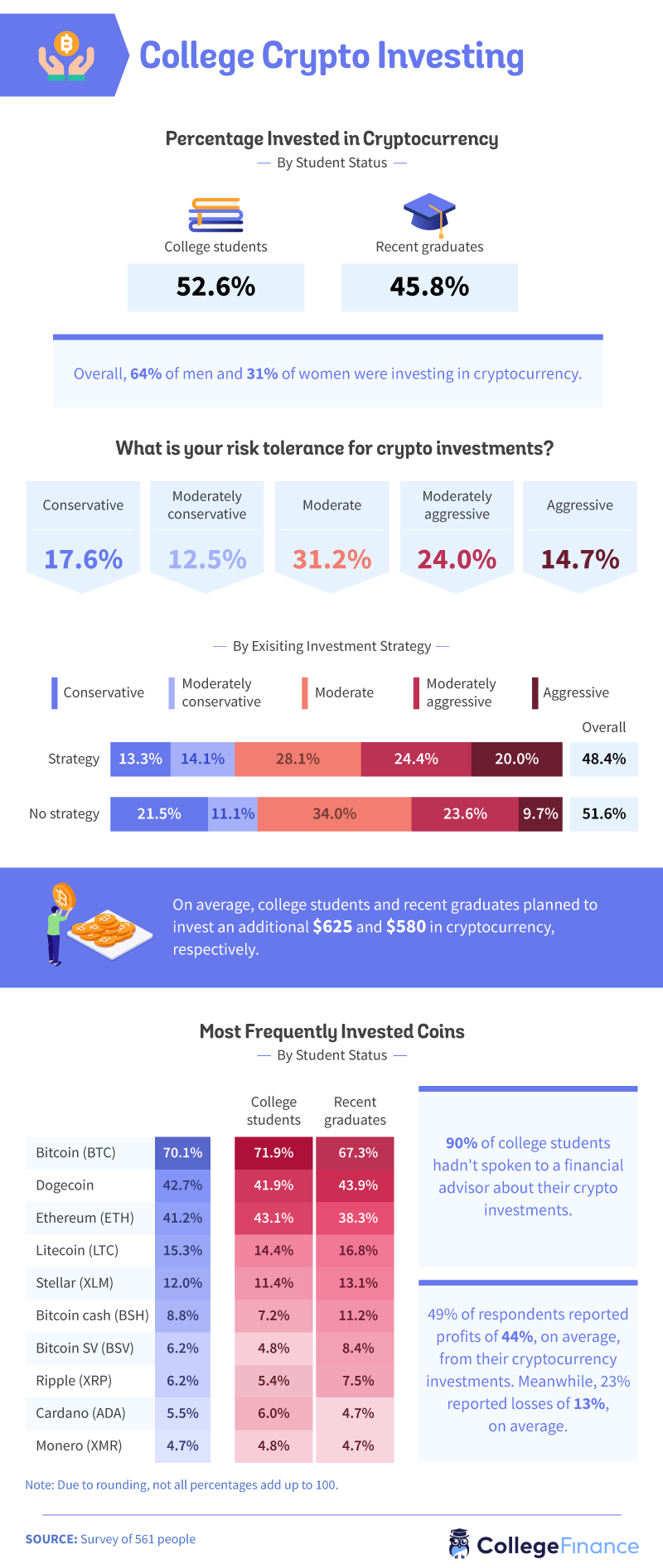 College student investors barely edged out recent grads with their intended additions to existing investments – the former planned to add an average of $625 to their cryptocurrency portfolio, while the latter's anticipated additional investments averaged $580. The most popular investment currency was Bitcoin (70%), followed by Dogecoin (43%), Ethereum (41%), Litecoin (15%), and Stellar (12%). Dogecoin, which started off as a joke or parody in 2013, rose to a $7 billion market capitalization in 2021. Forty-nine percent of students reported profits of 44%, on average, from their crypto investments.
Student Investment Educations
Seventy-eight percent of current and former students had a positive attitude toward investing in cryptocurrencies, while just 15% felt neutral toward them, and 7% had a negative stance. Students who'd taken a finance-related course during their studies were more likely to have a positive perspective toward cryptocurrencies (81%), compared to those without a finance course under their belt (74%). Current students (81%) were also more likely than recent graduates (73%) to feel positive toward investing in crypto.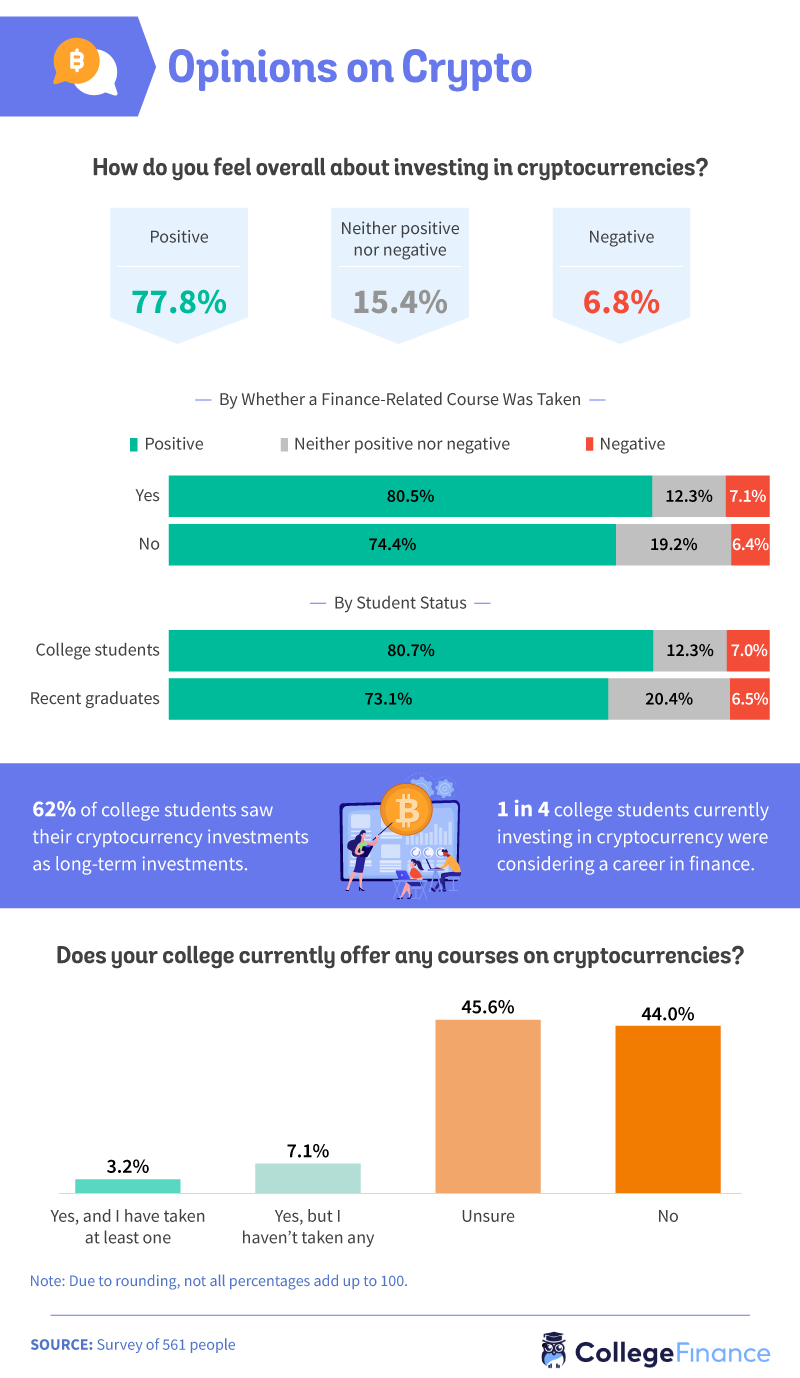 More than being a fad or a phase, 62% of college students said they believe their cryptocurrencies were long-term investments, and roughly a quarter of students currently investing in crypto indicated they were considering a career in finance. Despite their interest and possible enthusiasm for learning more, 44% of respondents said their colleges didn't currently offer classes on cryptocurrencies, and 46% weren't sure. Just 7% said their colleges offered crypto courses, but they hadn't taken one yet; and 3% said their college offered courses on cryptos, and they'd taken at least one.
Why Students Believe in Cryptocurrency
Among those surveyed, recent graduates (56%) were more likely than current college students (49%) to say cryptocurrencies were too risky to invest in.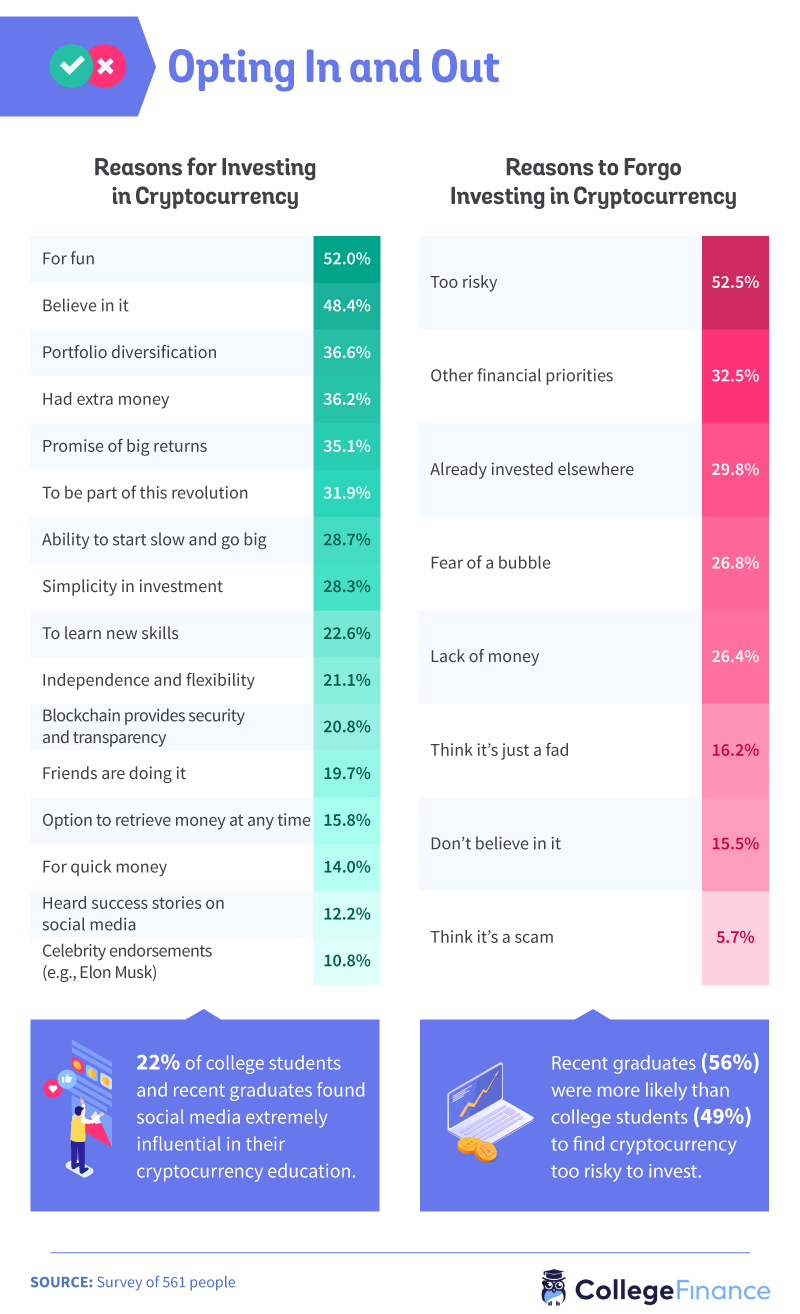 Among those opting to invest, the most common reasons were simply for fun (52%), because they believe in cryptocurrencies (48%), to diversify their portfolios (37%), and because they had extra money to spend (36%). While less common, 32% of students said they'd chosen to invest in cryptocurrencies because they believed in the revolution. More than 1 in 5 students and recent graduates said they found social media extremely influential on their crypto education. With Bitcoin projected by some to go as high as $200,000, some students may have FOMO (fear of missing out) when it comes to missing the boat on cryptocurrencies. 
The Future of Investing
Cryptocurrencies may not be everyone's investment of choice, but younger generations are more likely to add them to their portfolio and that willingness to explore digital currency may be paying off for them in a big way. As we found, current students were more likely to invest in cryptocurrencies than recent graduates, and those most bullish on crypto as an investment often had an investment strategy they were working toward. 
At College Finance, we know your classroom education doesn't always prepare you for the real world, which is why we have all your financial needs in one location. From comparing private student loans to refinance, scholarships, and student credit cards, our mission is to help you get the most out of your college investment right from the beginning. We know that with the right information, people can make decisions that help minimize their borrowing costs and get the most out of their college experience. Learn more now at CollegeFinance.com today! 
Methodology and Limitations
We surveyed 561 people. Among them, 325 were college students, and 236 were recent graduates. 57.9% of respondents were men, 40.3% were women, and 1.8% identified as nonbinary. Respondent ages ranged from 18 to 29 with an average age of 22. Our margin of error was +/- 4%.
For short, open-ended questions, outliers were removed. To help ensure that all respondents took our survey seriously, they were required to identify and correctly answer an attention-check question.
These data rely on self-reporting by the respondents and are only exploratory. Issues with self-reported responses include, but aren't limited to, the following: exaggeration, selective memory, telescoping, attribution, and bias. All values are based on estimation.
Fair Use Statement
Want to help spread the work on college students investing in cryptocurrencies? We encourage you to use the findings and graphics in this story for any noncommercial use with the inclusion of a link back to this page in your story as credit to our talented team of contributors.