In recent years, rising college costs have far outpaced inflation, producing staggering tuition bills for families across America, with most bills funded by student loans. Since 2008, the price of postsecondary education has increased more than 25%, with no end to this trend in sight.
And costs aren't just rising at private institutions: Tuition hikes are most significant at public universities, where fees have more than tripled since 2000. For parents seeking affordable options, even state schools demand hefty sums. 
But despite soaring prices, college remains an excellent investment. Over the course of their careers, graduates earn substantially more than those without a bachelor's degree. So when students and their parents sit down to discuss college, how do they weigh the immediate financial burdens against their aspirations for the years ahead?
In this project, we surveyed over 1,000 parents about how they and their children plan for the costs of college – and the methods they use to actually afford it. Our findings reveal the challenging questions and sacrifices so many families confront and the solutions they use to pursue long-term prosperity.
To learn how Americans across the socioeconomic spectrum plan and pay for college, explore our results below.
College Cost Conversations
When we asked parents whether they had discussed college costs with their children, the vast majority recalled at least one such conversation. But the subjects covered in these talks could vary greatly depending on each family's financial means.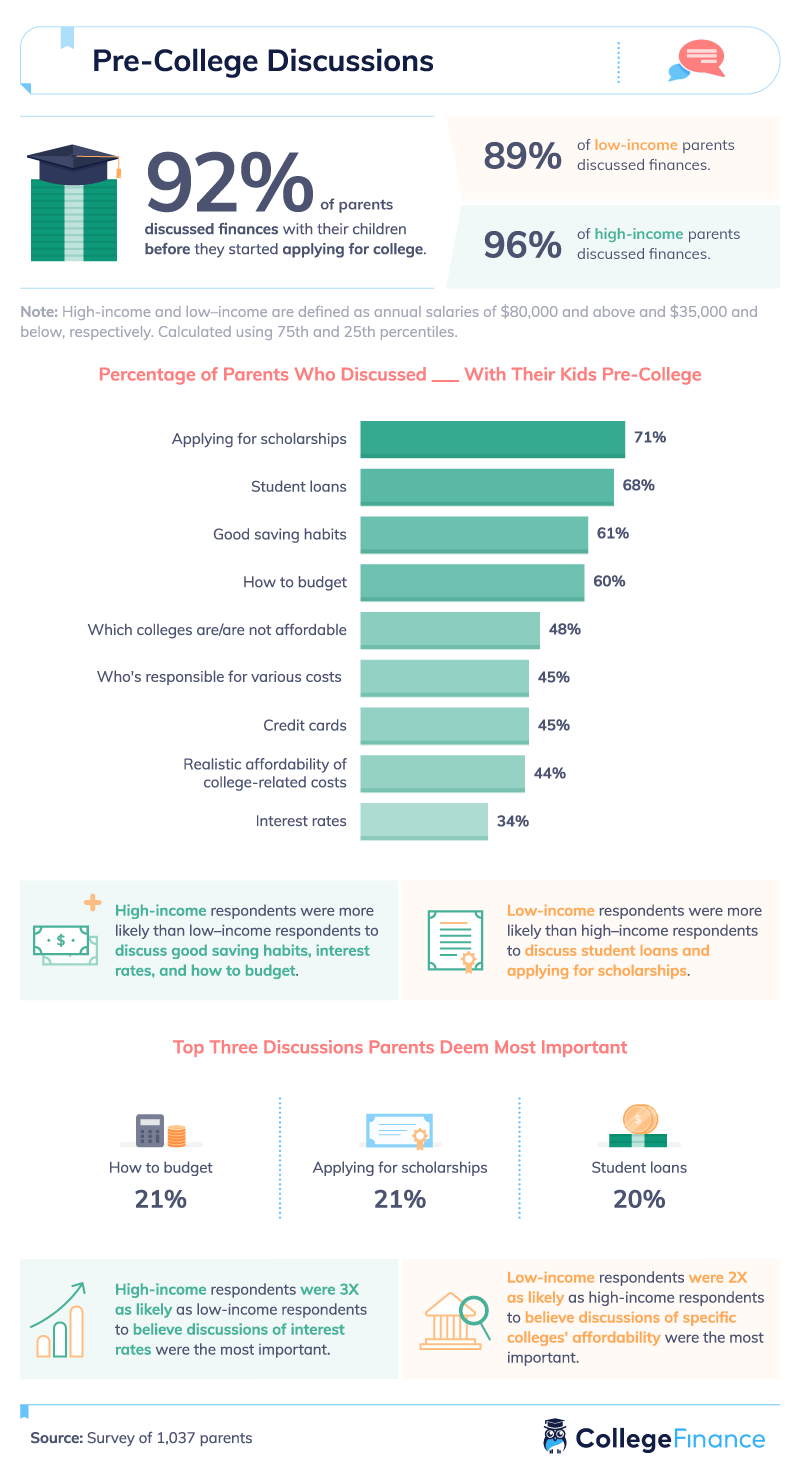 Interestingly, high-income parents were slightly more likely to discuss the costs of college with their kids than those on the lower end of the socioeconomic spectrum. This finding could reflect the barriers faced by many first-generation college students: For parents without college experience of their own, it can be difficult to know where to start these complex conversations.
On the other hand, low-income parents were particularly likely to discuss various forms of financial aid, such as scholarships and student loans. Because colleges and other funders consider financial need when awarding these types of aid, it makes sense that lower-income families would discuss these options more often.

However, more than two thirds of all parents discussed loans and scholarships, indicating that the costs of college are a challenge for even families of considerable means. High-earning parents were particularly likely to stress basic tenets of money management, such as solid savings habits, interest rates, and budgeting. While some experts believe wealthy Americans don't do enough to teach their kids about money, it seems the prospect of college can prompt these conversations.
Overall, respondents were most likely to deem budgeting, scholarships, and loans the most important subjects to discuss in their college cost conversations. Because the aforementioned financial topics are so closely related to building one's financial future, these discussions likely cover several of the subjects simultaneously.
Savings Status
As the price of postsecondary education climbs, saving for college is more essential than ever. Among the parents surveyed, most had begun to put money away for this purpose – but high earners could save more and sooner.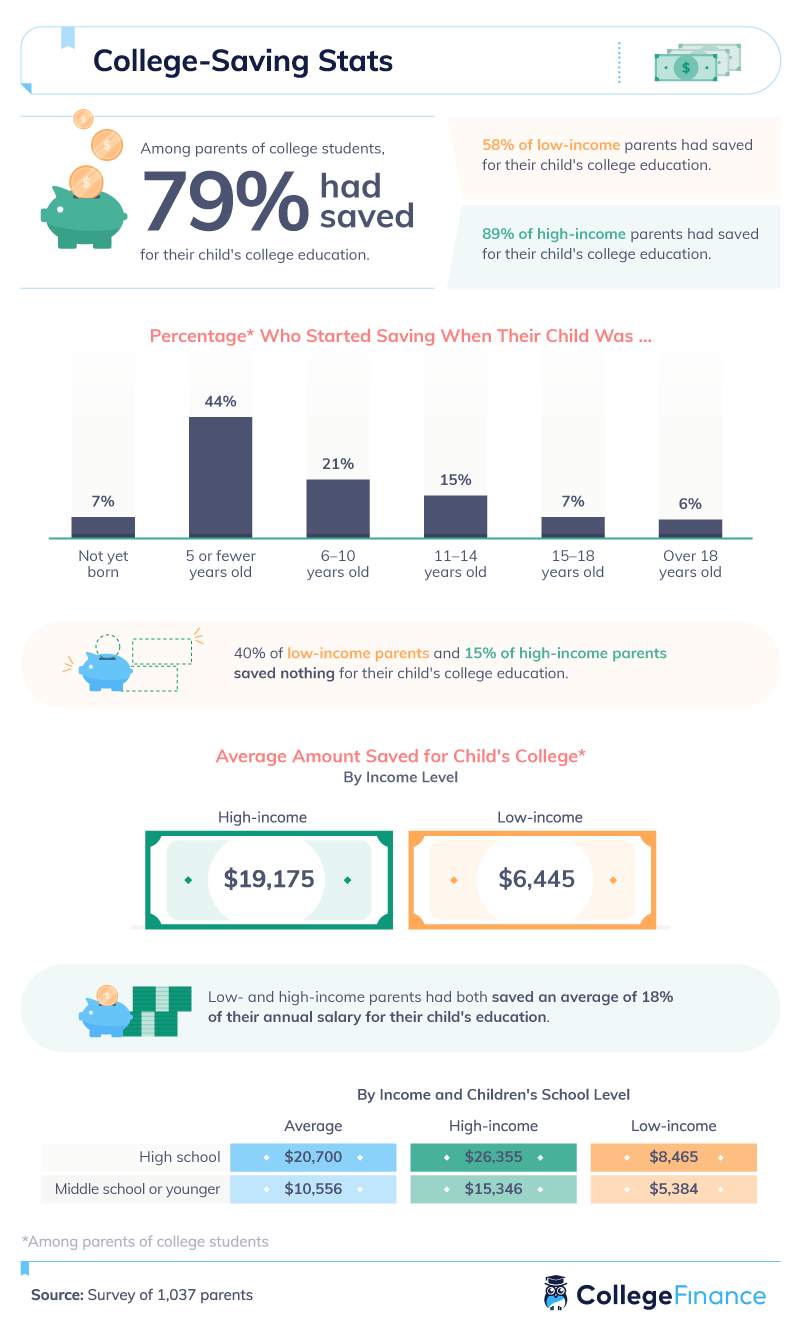 Whereas 89% of parents with high incomes had started saving for their kids' college expenses, just 58% of low-income parents said the same. In an era when a shocking percentage of Americans live paycheck to paycheck, this kind of strategic saving can feel out of reach for many families. Moreover, many of the nation's parents are millennials, a generation still paying down its own student debt.

Additionally, high-income parents had saved more than three times as much, on average, as low-income parents had. And the closer their children were to college, the deeper their differences were. Among parents with kids in high school, for example, high-income families had nearly 18,000 more saved on average. Interestingly, some experts cite this college savings gap in their opposition to universal free college tuition: Wealthy families can afford to pay, they say, and shouldn't get a free ride on the public's dime. 
Regardless of income, however, most parents started saving for college before their child had turned 10 years old. Clearly, it's never too early to start saving, and getting a jump on the process can pay dividends laters. But it's never too late to start saving either: No matter how old your kid may be, you can adopt a prudent strategy to offset the costs of college.
Shared Sacrifices
For many families, paying for college requires a multipronged approach: Parents and students both chip in how they can. Among the parents we surveyed, many were shouldering the cost of college themselves, while others said their kids were responsible for some or all of their educational expenses.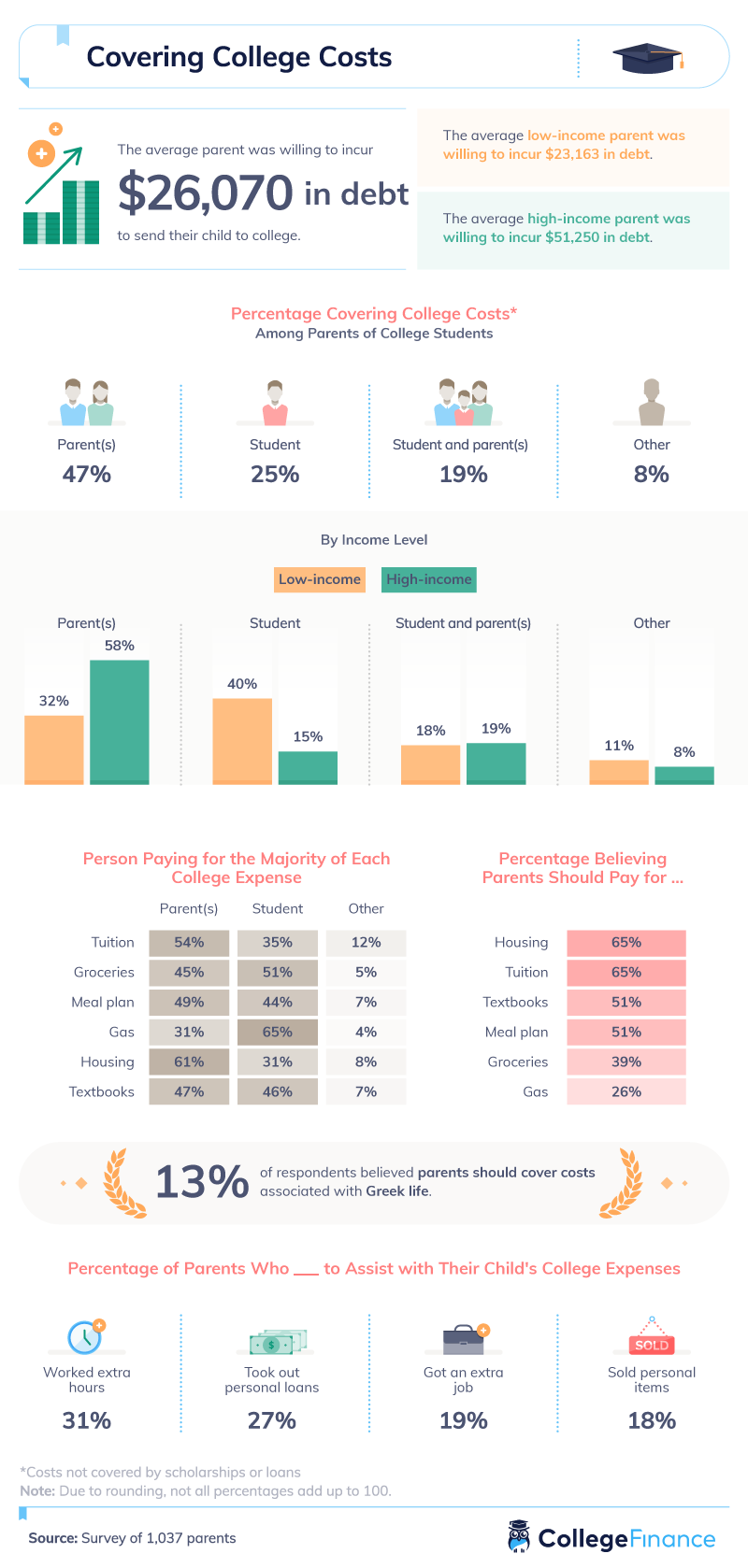 Generally, parents were willing to take on sizable loans on behalf of their children, saying they would incur more than $26,000 in educational debt on average. Those with high incomes said they'd be willing to incur nearly twice as much, ostensibly accepting more debt in light of their healthy earnings. 
Many American parents currently face steep debt burdens: Currently, borrowers owe more than $96 billion in parent PLUS loans. Among our respondents, 27% said they'd already taken out personal loans to help their kids pay for school. Many others worked extra hours or found a second job in order to cover college expenses.

These sacrifices are certainly admirable, but is it parents' responsibility to assume the costs of their children's education? While 47% of parents said they were covering the costs of school, 25% said their kids were paying for it. Another 19% said they and their children were splitting the expenses. Relative to high-income respondents, low-income parents were more likely to report their kids were fully or partially paying for school. 
Moreover, the costs of college typically far exceed tuition and fees: Families must also afford related expenses, such as books, food, and housing. Among our respondents, roughly two-thirds felt parents should foot the bill for housing and tuition, and about half said parents should pay for textbooks and meal plans. 
On the other hand, just 13% said parents should pay for the costs of participating in Greek life. Because fraternity and sorority dues can cost hundreds of dollars (excluding the costs of room and board in a house), these expenses are hardly marginal.
Aspirational Investment
Our results present a wide array of approaches and concerns when it comes to affording college. Each family must make challenging decisions in light of their own circumstances, carefully considering their resources and values. 
But because there's no formula for paying for college, there are many roads to financing this worthwhile investment. As our findings make clear, families across the socioeconomic spectrum make different decisions in supporting their loved ones – and encouraging these loved ones to support themselves. 
So whether you are considering college, currently taking classes, or recently began repaying your loans, take a lesson from our respondents: While the price tag may be intimidating, there are lots of flexible and creative approaches to achieving your goals over time. 
At College Finance, we're here to help you think strategically about financing your education. Our guides and resources are designed to suggest possible solutions you hadn't already considered and break down daunting subjects such as federal loans and refinancing options. When it comes to getting a great education and paying for it, knowledge is power.
Methodology and Limitations
We surveyed 1,037 parents using Prolific and the Amazon MTurk platform. 388 were parents of college students or graduates, and 649 were parents of children who had not yet graduated from high school. To help ensure that respondents took our study seriously, all respondents were required to identify and correctly answer an attention-check question. In some cases, questions and responses were rephrased for clarity or brevity.
In certain cases, outliers have been excluded. These data rely on self-reporting, and statistical testing was not performed on these findings. Potential issues with self-reported data include, but are not limited to, exaggeration, selective memory, and attribution errors on the part of respondents.
Fair Use Statement
For families considering the costs of college, the challenge of paying for school can feel overwhelming at times. Thankfully, this study shows they're in excellent company. So if you'd like to share our work with someone who might find it interesting or helpful, we welcome you to do so. Please use our images and information strictly for noncommercial purposes and link back to this page so that others can access our full study.